The Pettisville School Foundation and 4 local Pettisville businesses worked together to provide the Board of Education and staff at Pettisville Schools with gift cards during Teacher Appreciation Week. Our staff was delightfully surprised and very appreciative. Special thanks to Das Essen Haus, Pettisville Meats, Stella Leona, and Weeping Willow Florist for your continued support of our school!
Pettisville School Foundation has an "Initiative Grant" program where staff members can apply for funds to be used for different events or school resources. This school year, the PSF helped fund Inflatables for the last week of school for our youngest blackbirds. Preschool through 6th grade got to spend time racing, jumping and bouncing their energy off the last few days of school.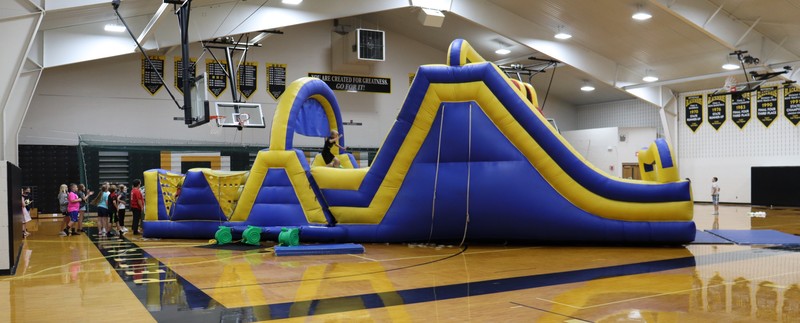 The Pettisville School Foundation also sponsors scholarships each year for the graduating class. This year, PSF added 2 new scholarships: The Career Scholarship and The PGC (Pettisville Grain Company) Scholarship.
2021 Pettisville School Foundation Scholarships
Bryant A. Weber Memorial Scholarship: Thomas McWatters
David E. Springer Memorial Scholarship: Kaylee Grimm
Richard M. Werder Memorial Scholarship: Levi Myers
Lawrence H. Schroeder Memorial Scholarship: Elise Hartzler
Pettisville Teachers Association (Boyer) Scholarship: Sydnie Adkins
Pettisville Schools Foundation 30th Anniversary Award: Joshua Horning
Pettisville Schools Foundation Career Scholarship: Ellie Wixom
Pettisville Schools Foundation Pettisville Grain Scholarship: Andrew Hulbert
Congratulations to these individuals, and best wishes in your future endeavors!
We are thrilled to have such a wonderful foundation that supports our staff and students at Pettisville Schools. The Pettisville School Foundation has been a backbone for many of the school's notable projects. To read a brief history, or find scholarship information please visit the webpage: https://www.pettisvilleschools...