The PSF "Family Fund" exists to assist students who are experiencing a financial or other situation that might hinder them from participating fully in student life at Pettisville.

These scholarships are offered by the Pettisville School Foundation. Click the link above for the PSF Scholarship Program information. All scholarships are one time, non-renewable awards and are contingent upon successful completion of one term of college work.
Thank you for your consideration in a PSF membership!
Membership drives and generous donations from our local community members and businesses help keep the Pettisville School Foundation funded. The PSF is able to continue to provide Senior Scholarships and Teacher+ Grants each year to our staff and students, as well as donate funds towards larger projects for our school.
Difference Maker
Pettisville School Foundation was selected as a 2021 "Difference Maker" for #GivingTuesdayNWO!
As we look to the " NEXT 35 Years," the Pettisville School Foundation will continue to serve our students, staff and community through scholarships, grants and other projects.
PETTISVILLE SCHOOL FOUNDATION
Nov 30, 2021 #GivingTuesday419
The Pettisville School Foundation was featured as one of the 10 Difference Makers featured at this year's GivingTuesday419 event organized by Everence®. More information about this event at Founders Hall, Sauder Village is on our GivingTuesday419 page.
2021 Senior Scholarship Winners
Pettisville School Foundation Scholarships
Bryant A. Weber Memorial Scholarship: Thomas McWatters
David E. Springer Memorial Scholarship: Kaylee Grimm
Richard M. Werder Memorial Scholarship: Levi Myers
Lawrence H. Schroeder Memorial Scholarship: Elise Hartzler
Pettisville Teachers Association (Boyer) Scholarship: Sydnie Adkins
Pettisville School Foundation 30th Anniversary Award: Joshua Horning
Pettisville School Foundation Career Scholarship: Ellie Wixom
Pettisville School Foundation Pettisville Grain Scholarship: Andrew Hulbert
Pettisville School Foundation Grieser Transportation - Diesel Mechanics Scholarship: Blake Eyer
Congratulations to our Class of 2021 Scholarship Winners!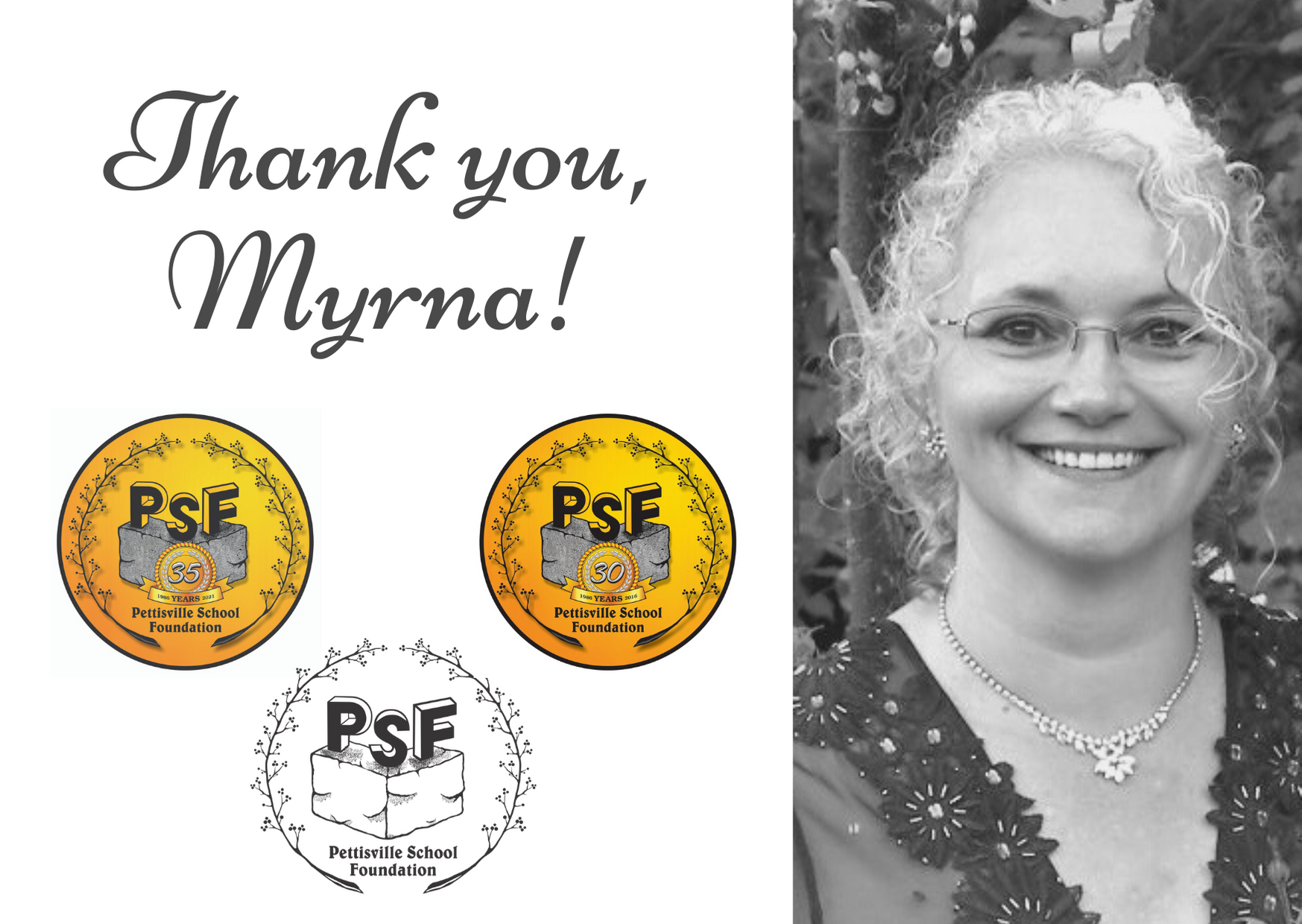 The PSF would like to thank Myrna (Cordy) Brown for the updates of our PSF graphic, which she originally designed. Mrs. Brown has been designing logos for the School and Foundation for over thirty years.
NEW for 2021!
The Pettisville School Foundation Board Trustees have created a new scholarship, the "PSF Career Scholarship", solely to benefit the graduate who is continuing their education for an occupation/skill in an area not traditionally supported by institutions of higher education. The initial scholarship will be in the range of $1,000 and will be offered annually to a graduating senior who is continuing his/her education by pursuing a trade or career that requires additional (non-college) training. This scholarship could support an internship, an apprenticeship, or classes to learn a new skill or trade.
The Pettisville Grain Company will also fund a new scholarship. The PGC Scholarship, first offered to the PHS Class of 2021, will benefit a PHS graduate to secure training or college credit in an agriculture related field. The scholarship will be for $1,250 and will be awarded annually to a graduate with a preference (although not limited to) for students who plan continuing their education by pursuing a two or four year degree in an ag related field or securing skills in an agricultural related field. If there are no applicants in the ag area, this scholarship can be awarded to any applicant as chosen by the scholarship committee.
The PSF awarded its first scholarship in 1986 and now offers eight different scholarships and has disbursed over $100,000 to over 120 PHS graduates.
A Brief History of the Pettisville School Foundation
Receipt of the $111,000 Meister gift to the board of education in 1982 planted the seed of thought that others might like to donate to the Pettisville Local School and that an organization to encourage such contributions might be worthwhile.
After researching the concept, Stephen Switzer, Pettisville School Superintendent, assembled a group of interested individuals to consider forming an educational foundation. Individuals included Gary Frazier, Steve Graffice, Myrl Sauder, Rod Nofziger, Valetta Werder, Jan Stamm, Golda Boyer, and Mr. Switzer.
In November, 1986, a press conference was held in the high school library announcing the formation of the "Pettisville School Foundation" and receipt of a $1,000 gift from Henry Keller, the first gift to the PSF, and a $10,000 gift from Valetta Werder, fifth grade teacher at Pettisville, to endow the "Richard Werder Memorial Scholarship" in memory of her husband.
The foundation organization included a board of trustees, with two trustees appointed by the board of education and seven elected by the membership. Founding trustees include Chris Rychener, President; Luana Esterline, Vice President, Valetta Werder, Secretary-Treasurer; Golda Boyer, Gary Frazier, Steve Graffice, Rod Nofziger, Myrl Sauder, and Ruth Wyse.
Superintendent Switzer was appointed executive director. PHS grads attorney Jan Stamm and accountant Dave Rupp agreed to assist in legal and accounting areas. At the time of its founding, the PSF was one of the first local school foundations in the state. Since that time, the PSF has provided assistance in the creation of numerous area school foundations.