2022-23 PSF Trustees
Photo Coming Soon!
Dan Sauder, Brent King, Dave Grieser, Callie Jacoby, John Poulson, Tom McWatters, Kristen Rupp, Pam Skates.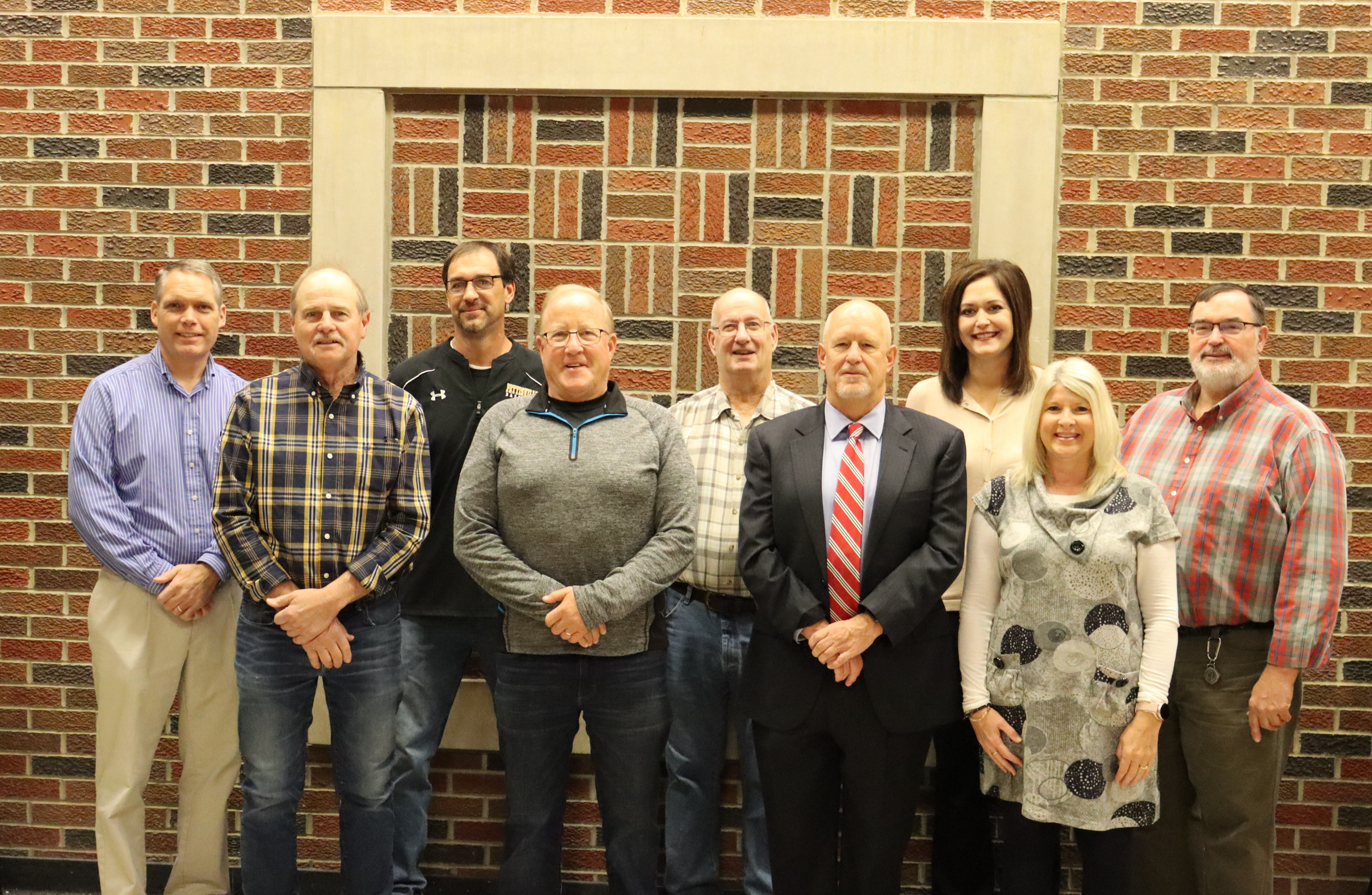 2021-22 PSF Trustees
Back Row L-R: Dan Sauder, Brent King, Dave Grieser, Callie Jacoby, John Poulson.
Front Row L-R: John King, Neil Rupp, Tom McWatters, Kristen Rupp.

The PSF "Family Fund" exists to assist students who are experiencing a financial or other situation that might hinder them from participating fully in student life at Pettisville.

These scholarships are offered by the Pettisville School Foundation. Click the link above for the PSF Scholarship Program information. All scholarships are one time, non-renewable awards and are contingent upon successful completion of one term of college work.
Thank you for your consideration in a PSF membership!
Membership drives and generous donations from our local community members and businesses help keep the Pettisville School Foundation funded. The PSF is able to continue to provide Senior Scholarships and Teacher+ Grants each year to our staff and students, as well as donate funds towards larger projects for our school.
As we look to the " NEXT 35 Years," the Pettisville School Foundation will continue to serve our students, staff and community through scholarships, grants and other projects.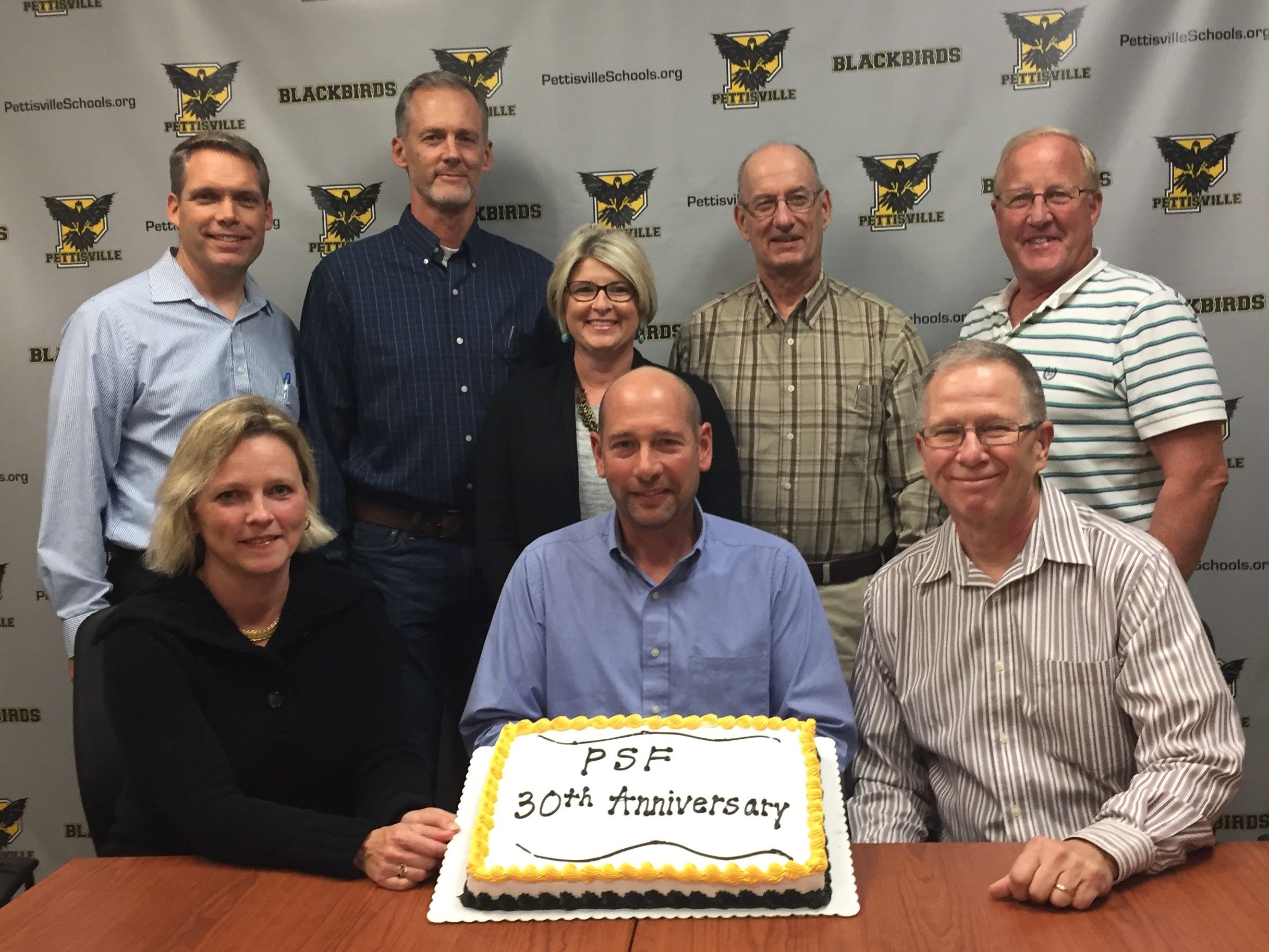 PSF - Celebrating 30 Years
PETTISVILLE SCHOOL FOUNDATION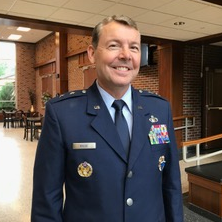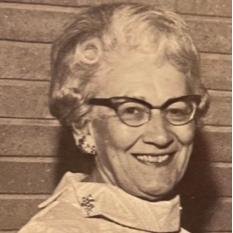 PSF Adds Leadership Award; Renames Scholarship to Honor Iconic Teacher
The Pettisville School Foundation today announced that a student Leadership Award has been created and an existing scholarship has been renamed in memory of the first PHS teacher. Both will be awarded to PHS seniors in May of 2023.
The "Kruse Leadership Award," will recognize student leadership and service. The recipient each year will be a senior who has demonstrated leadership across a range of academic, athletic, church and/or community activities, and is poised to embark on a lifetime of selfless service to the community and world around them.
The award was created by Lieutenant General Jeff Kruse and his wife, Dr. Susie Kruse, as their tribute and thank you to Pettisville Schools and the Pettisville community.
It is a mark of faith and investment in today's youth that they too are committed to serving and advancing a greater purpose beyond themselves. The award for 2023 is $1,500. It will be in the form of a scholarship or a cash stipend to the recipient.
A scholarship created to commemorate the 30th Anniversary of the P S F has been renamed to honor the first Pettisville High School teacher, Miss Ruth K. Wyse, and her long career at PHS.
The Ruth K. Wyse Memorial Scholarship will be first awarded in the spring of 2023. Ruth K. Wyse was born January 25, 1903 in Pettisville and passed away June 4, 2005 at the age of 102. She was a Pettisville icon, as she taught Latin, French, English, and journalism for 43 years, retiring in 1972. She continued serving her school as in 1986, she became one of nine founding trustees of the Pettisville School Foundation, serving until 1992.
These two scholarships are part of ten offered annually to PHS graduating seniors by the Pettisville School Foundation.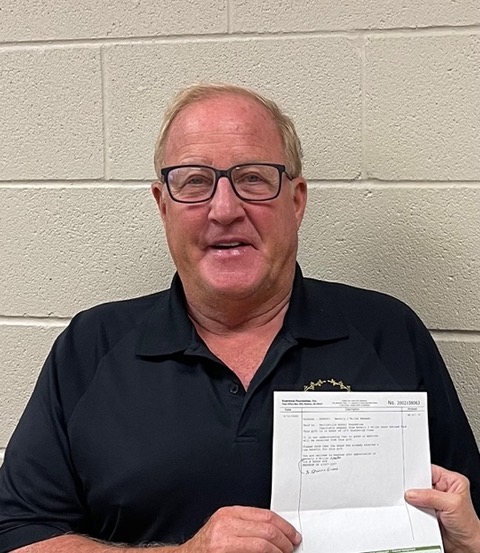 We are heartbroken to have to report that PSF trustee and treasurer Neil Rupp passed away on November 9, 2022. Neil was a genuinely special person who had a gigantic heart for service to others and demonstrated that heart through his tireless work and generosity.
Neil served as a PSF Trustee for 30 years, served as president from 1996 to 2003, and was our treasurer since 2008. He commented often how he enjoyed writing checks for the PSF's Family Fund, which helps students and families in need.
Neil was a very special friend and I could sum up his essence in these words:
They simply do not come any better. His will genuinely be missed.
Steve Switzer,
Executive Director, PSF
#GivingTuesday419 - 2022
November 7, 2022
This is a reminder that we are just days away from #GivingTuesday419 on November 29 at Founders Hall. Registration ends Nov 21 or before (if they reach capacity).
#GivingTuesday419 is sponsored by Everence and held at Sauder Village's Founders Hall. The program includes a great meal and brief presentations from ten non-profit "Difference Makers". Attendees make donations during the evening to the difference makers or any 501-c-3 organization! In 2021 PSF was featured as a "Difference Maker."
PSF has greatly benefitted from this event. Our donors have given over $100,000 at #GivingTuesday419 events, but thanks to a funding match arranged by Everence, the PSF has received over $130,000. This is a great way give to the Foundation!
You must be present to donate and have your gifts matched, so please be sure to attend this year's event. Please register now at https://fs4.formsite.com/everence/mttm77yl4h/index.html
See you on Tuesday, November 29, 2022!
Steve Switzer,
Executive Director, PSF
This year's Class of 2035 started their first day of school by "Signing" as official Blackbirds! Each student stamped their handprints on their very first Pettisville Blackbird t-shirt, alongside their teachers, Principal Waldvogel, and Superintendent Clark. This was made possible thanks to the Teacher+ Grant program.
Over the past 35 years, the PSF has awarded over 120 grants totaling over $30,000 to support the "Teacher+ Grant Program" which provides small grants for special programs created by teachers or staff members to help with special school and community projects. These grants may be used to further education at a conference, an educational field trip, or special programming, or provide additional learning tools for the classroom.

Some of the other projects include Opera on Wheels, The Big Read, Portraits of and for Orphans in Nicaragua, Painting a Rainbow (KG students planting flowers), The Physics of Toys, Literacy Night for Kindergarteners, Women in Math and Science and STEM toys for indoor recess.
Thank you to the donors of the Pettisville School Foundation, as your gifts allow these programs to happen!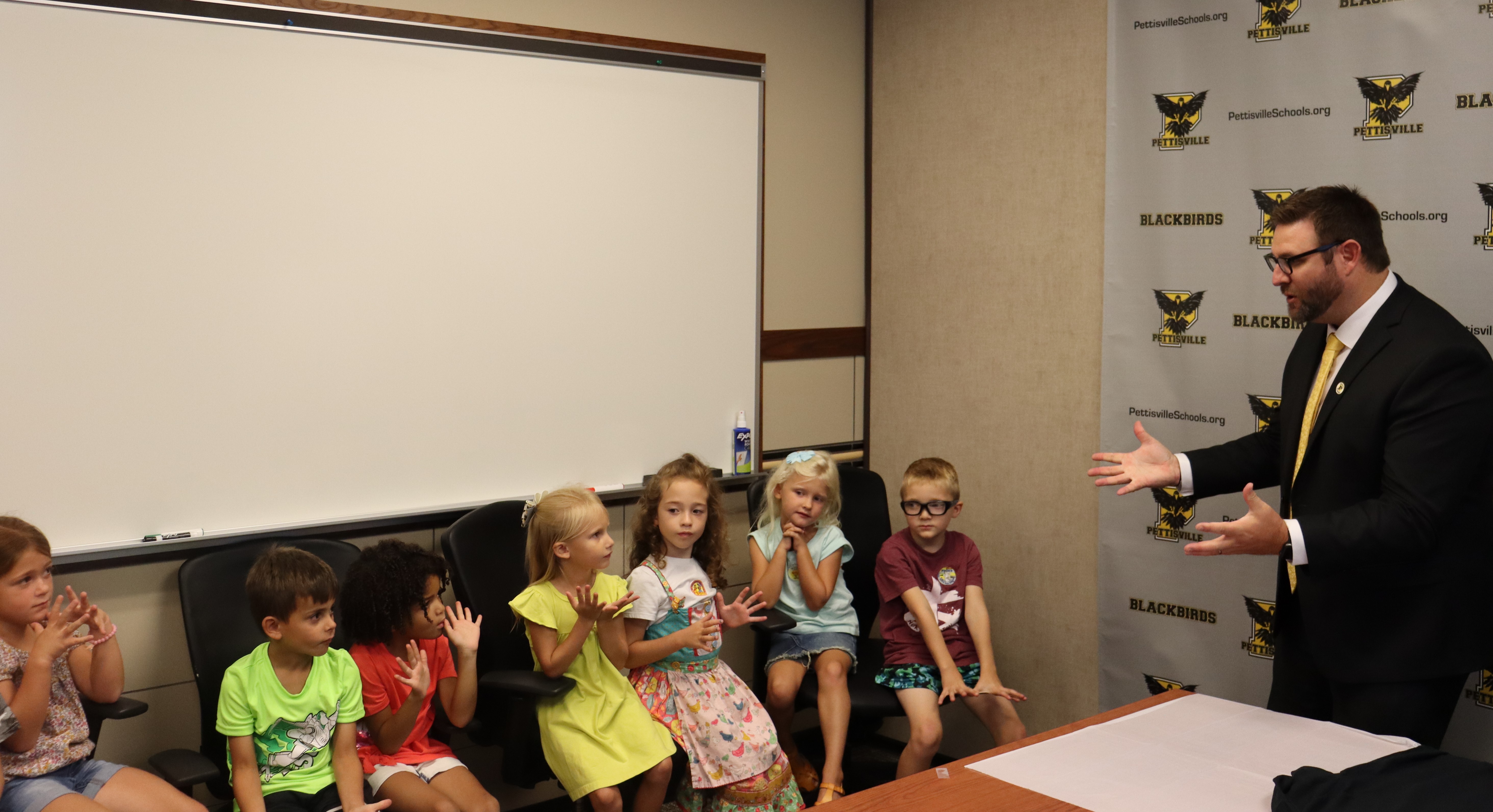 2022 Senior Scholarship Winners
Pettisville School Foundation Scholarships
Bryant A. Weber Memorial Scholarship: Carson Bennett
David E. Springer Memorial Scholarship: Zachary Girdham
Richard M. Werder Memorial Scholarship: Bryce Beltz
Lawrence H. Schroeder Memorial Scholarship: Keilah Fish
Pettisville Teachers Association (Boyer) Scholarship: Hannah Huddle
Pettisville School Foundation 30th Anniversary Award: Karsen Pursel
Pettisville School Foundation Career Scholarship: Emma Salmi
Pettisville School Foundation Pettisville Grain Scholarship: Clara Damman
Congratulations to our Class of 2022 Scholarship Winners!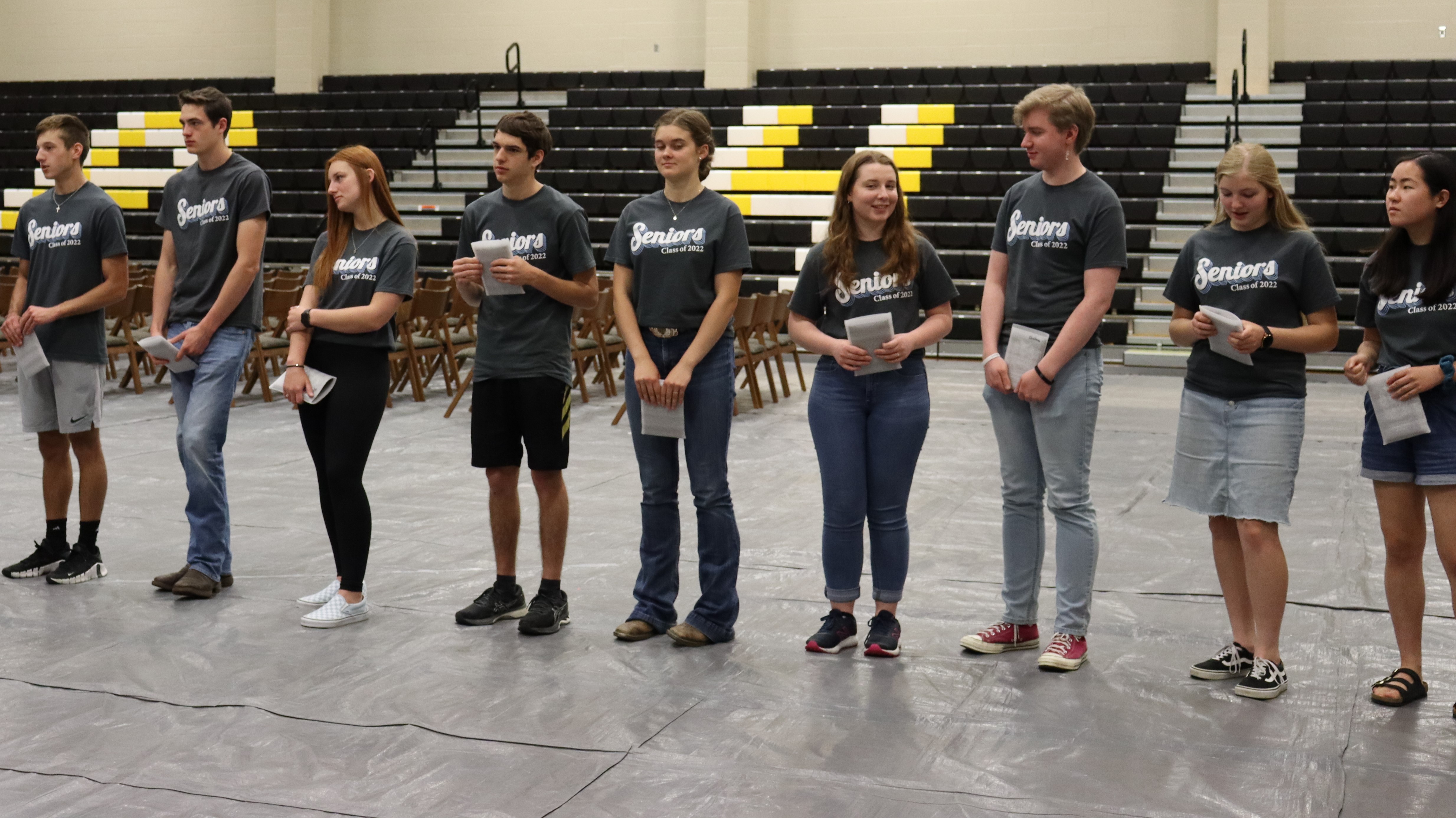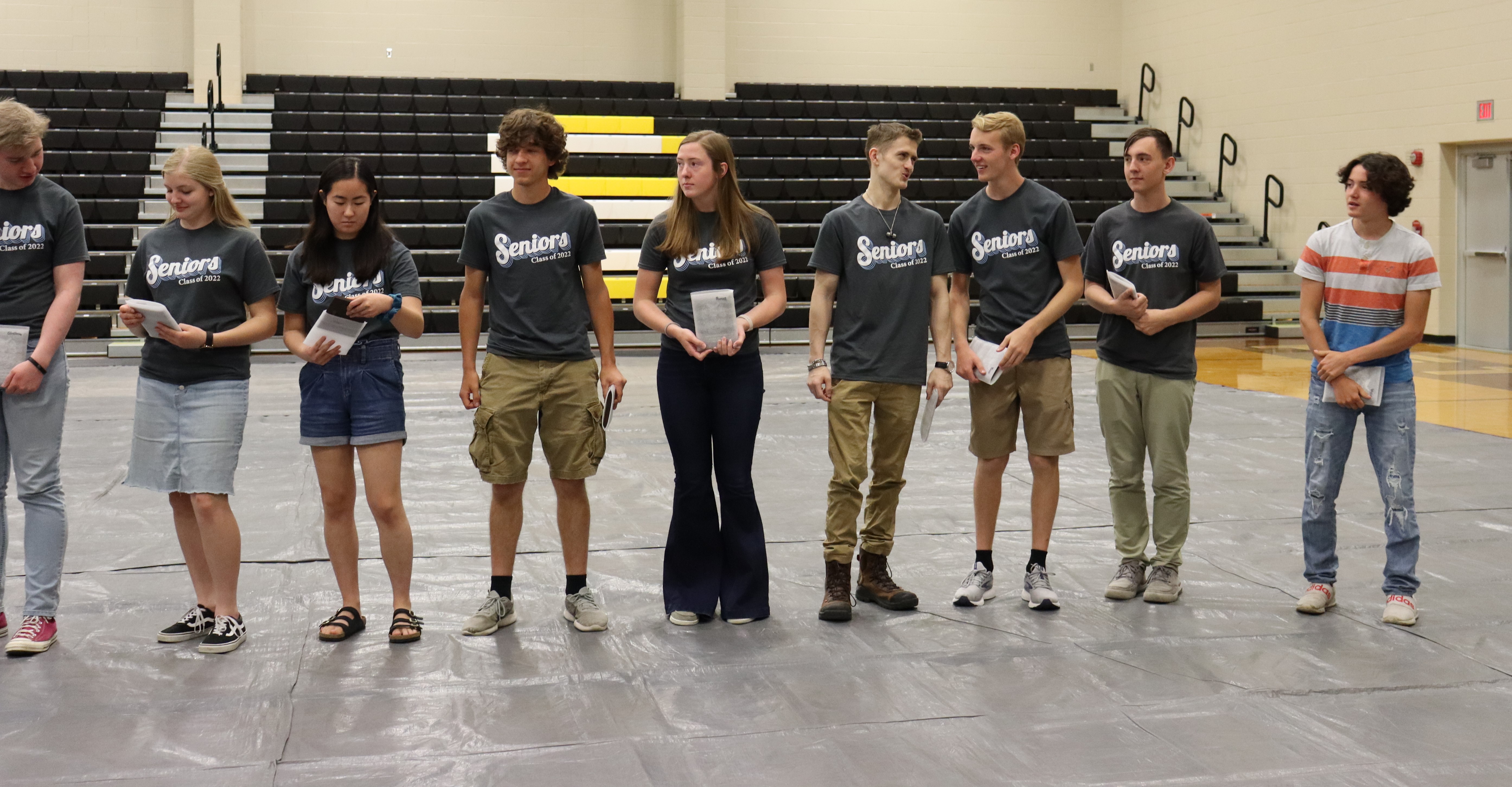 Bits of News
Difference Maker - Pettisville School Foundation was selected as a 2021 "Difference Maker" for #GivingTuesdayNWO!
The PSF renamed its grant program as the "Teacher+ Grant" with the plus referring to anyone who has a unique idea that would benefit the school or community. The base amount was increased from $300 to $500.

"Girl Named Tom", a musical group of Blackbird siblings Caleb (PHS '13), Joshua ('15), and Bekah Liechty, ('19), are a national sensation after competing on, and winning NBC's "The Voice." They were the season's lead-off act (which started with 48), "Watch Parties" were held in the Theatre to cheer for the Blackbirds on the national stage. Congratulations, Caleb, Joshua, and Bekah!

Lieutenant General Jeffrey A. Kruse (PHS '86) received his 3rd Star in August of 2020. … General Kruse was honored in May of 2017 with Pettisville High School's "Circle of Excellence" Award, the only PHS grad so honored.

Former Superintendent David L. Lersch passed away in December of 2020 at the age of 84. He served as the sixth Pettisville superintendent from 1963 to 1982.
Watch the PSF's new website for additional features. You will soon be able to donate and join on-line. www.PSFBlackbirds.org. Some of the current highlights include a video of the auction in the old school, shortly before demolition… many pictures ... a history of the PSF.
Pettisville Schools has been able to hold in-person instruction throughout the pandemic, with the exception of the period from March to June in 2020 when classes were remote. Ironically, four months before going remote, the PSF Family Fund provided internet at home for all students grade 5-12 who were without. Graduation for the Class of 2020 was held in the parking lot with graduates in cars.

To contact the PSF, email the executive director, Steve Switzer, at sswitzer@PSFBlackbirds.org or call his cell at 419-306-4168.
Nov 30, 2021 #GivingTuesday419
The Pettisville School Foundation was featured as one of the 10 Difference Makers featured at this year's GivingTuesday419 event organized by Everence®. More information about this event at Founders Hall, Sauder Village is on our GivingTuesday419 page.
The PSF would like to thank Myrna (Cordy) Brown for the updates of our PSF graphic, which she originally designed. Mrs. Brown has been designing logos for the School and Foundation for over thirty years.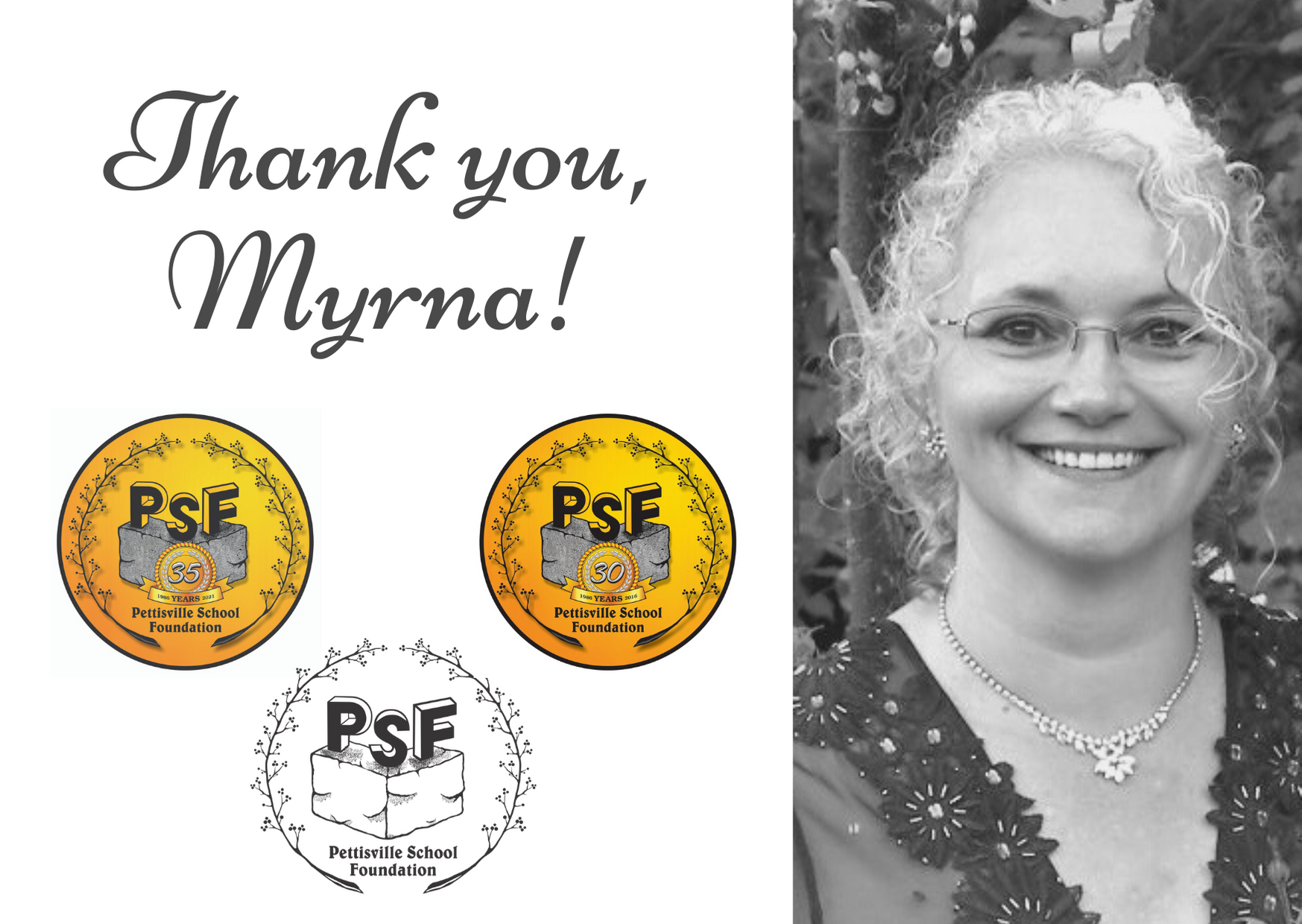 2021 Senior Scholarship Winners
Pettisville School Foundation Scholarships
Bryant A. Weber Memorial Scholarship: Thomas McWatters
David E. Springer Memorial Scholarship: Kaylee Grimm
Richard M. Werder Memorial Scholarship: Levi Myers
Lawrence H. Schroeder Memorial Scholarship: Elise Hartzler
Pettisville Teachers Association (Boyer) Scholarship: Sydnie Adkins
Pettisville School Foundation 30th Anniversary Award: Joshua Horning
Pettisville School Foundation Career Scholarship: Ellie Wixom
Pettisville School Foundation Pettisville Grain Scholarship: Andrew Hulbert
Pettisville School Foundation Grieser Transportation - Diesel Mechanics Scholarship: Blake Eyer
Congratulations to our Class of 2021 Scholarship Winners!
NEW for 2021!
The Pettisville School Foundation Board Trustees have created a new scholarship, the "PSF Career Scholarship", solely to benefit the graduate who is continuing their education for an occupation/skill in an area not traditionally supported by institutions of higher education. The initial scholarship will be in the range of $1,000 and will be offered annually to a graduating senior who is continuing his/her education by pursuing a trade or career that requires additional (non-college) training. This scholarship could support an internship, an apprenticeship, or classes to learn a new skill or trade.
The Pettisville Grain Company will also fund a new scholarship. The PGC Scholarship, first offered to the PHS Class of 2021, will benefit a PHS graduate to secure training or college credit in an agriculture related field. The scholarship will be for $1,250 and will be awarded annually to a graduate with a preference (although not limited to) for students who plan continuing their education by pursuing a two or four year degree in an ag related field or securing skills in an agricultural related field. If there are no applicants in the ag area, this scholarship can be awarded to any applicant as chosen by the scholarship committee.
The PSF awarded its first scholarship in 1986 and now offers eight different scholarships and has disbursed over $100,000 to over 120 PHS graduates.
A Brief History of the Pettisville School Foundation
Receipt of the $111,000 Meister gift to the board of education in 1982 planted the seed of thought that others might like to donate to the Pettisville Local School and that an organization to encourage such contributions might be worthwhile.
After researching the concept, Stephen Switzer, Pettisville School Superintendent, assembled a group of interested individuals to consider forming an educational foundation. Individuals included Gary Frazier, Steve Graffice, Myrl Sauder, Rod Nofziger, Valetta Werder, Jan Stamm, Golda Boyer, and Mr. Switzer.
In November, 1986, a press conference was held in the high school library announcing the formation of the "Pettisville School Foundation" and receipt of a $1,000 gift from Henry Keller, the first gift to the PSF, and a $10,000 gift from Valetta Werder, fifth grade teacher at Pettisville, to endow the "Richard Werder Memorial Scholarship" in memory of her husband.
The foundation organization included a board of trustees, with two trustees appointed by the board of education and seven elected by the membership. Founding trustees include Chris Rychener, President; Luana Esterline, Vice President, Valetta Werder, Secretary-Treasurer; Golda Boyer, Gary Frazier, Steve Graffice, Rod Nofziger, Myrl Sauder, and Ruth Wyse.
Superintendent Switzer was appointed executive director. PHS grads attorney Jan Stamm and accountant Dave Rupp agreed to assist in legal and accounting areas. At the time of its founding, the PSF was one of the first local school foundations in the state. Since that time, the PSF has provided assistance in the creation of numerous area school foundations.