Pettisville Schools recently upgraded classroom technology to include CleverTouch screens. Pettisville Schools received the funds from dividends from the Bureau of Workmans Compensation Fund. A portion of those funds were used to implement CleverTouch screens in about half of Pettisville's classrooms. Technology Director, Mike Zimmerman spearheaded the project.
"This is a project our district has been looking at for some time, and I'm thrilled to have completed the first wave of installation with the CleverTouch interactive touchscreens. We purchased enough to replace the projectors in over half of our elementary and high school classrooms. Along with the technology department, our teachers who received CleverTouch interactive touch screens in Phase 1 will help model and train as we implement the second wave. We also have one mobile CleverTouch screen on a cart, which can be used in classrooms and for training opportunities."
The CleverTouch screens fix a number of problems that the projector screen/boards had. In the high school classrooms, there is an abundance of natural light from skylight windows. While natural light is a bonus, it has made it hard for projected images and videos to be seen. The CleverTouch screens are very similar to a TV screen, so exterior lighting is no longer an issue in the high school classrooms.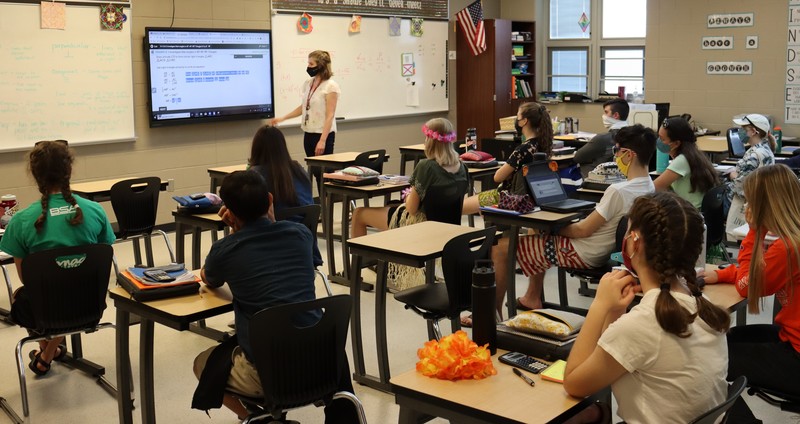 High School Principal, Michael Lane, shares "The addition of the CleverTouch devices in our classrooms opens a vast wealth of information and instructional offerings for the children we serve in an interactive and engaging manner."
The interactive screens have been installed in about half of our classrooms, including Kindergarten through High School classrooms. From puzzles, reading and writing apps, to science and mathematics, these devices have a wide range of educational products that will help our students continue to expand the way they learn.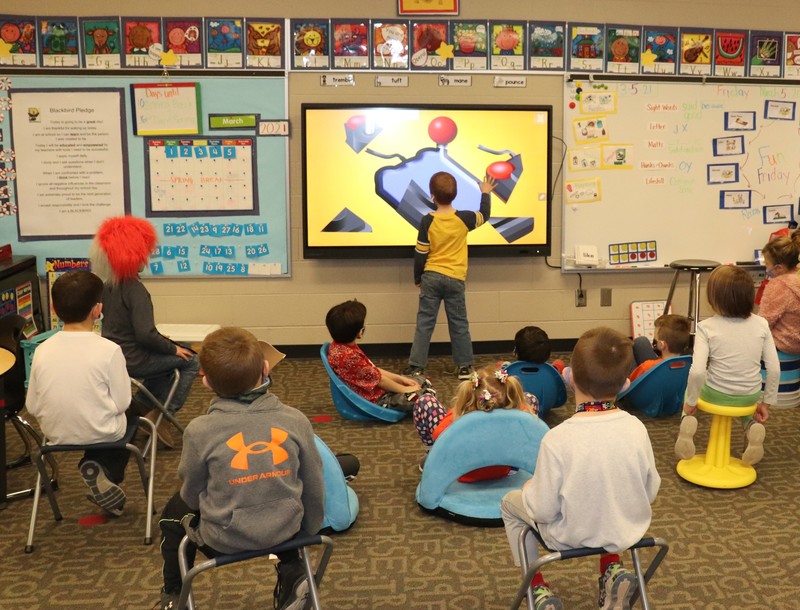 Elementary teacher Kisha Genter has been thrilled with the addition of the CleverTouch screens. "Not only does it aid in teacher prep and planning, but it greatly supports student learning. The way the students are able to physically interact and manipulate items during an activity or lesson has increased student motivation, engagement, and participation. They can't wait to get their opportunity to use the Clevertouch and READ!"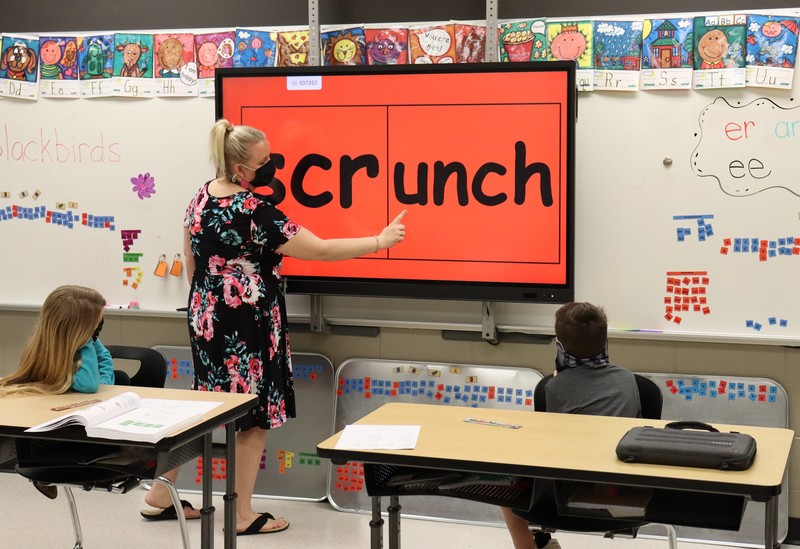 Elementary principal Jason Waldvogel shares, "Clevertouch technology will absolutely enhance the learning experience for all students. The versatility of the device allows both the teacher and student to use it on an individualized level. Materials that teachers have used in the past can now easily be projected, interacted with and even shared. Teachers can cater to students' learning needs, whether it be larger print, background color or other items that may make the learning accessible to certain students. These devices allow for auditory, visual and kinesthetic learning which are the three main pathways to the brain. Our teachers and students are extremely excited and thankful for the opportunity!"
Special thanks to our "Muscle Men" Ron & Shawn, who helped build and mount the CleverTouch screens in our classrooms.