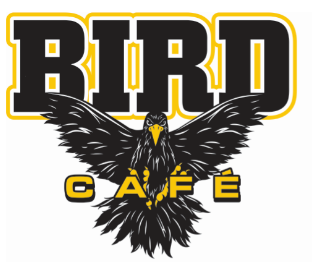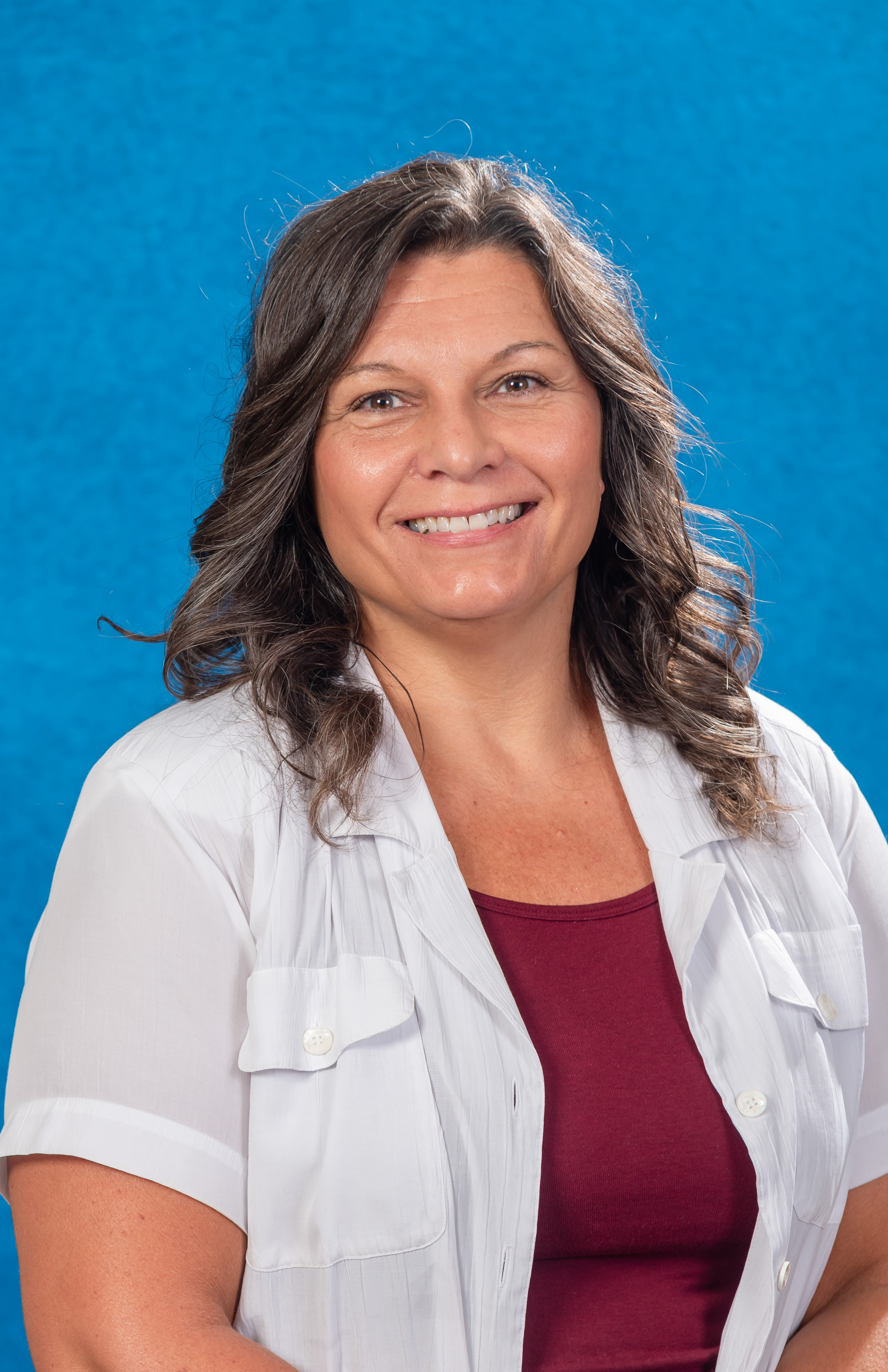 Sandy Blackwood, Head Cook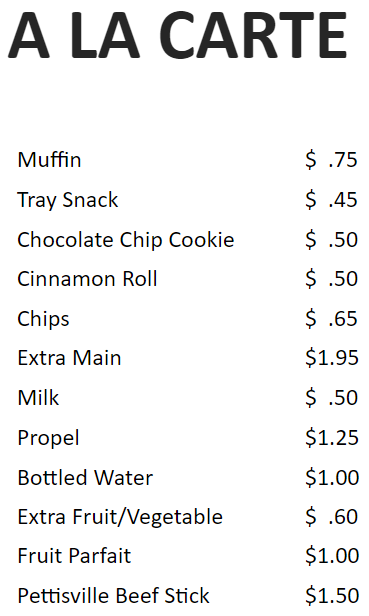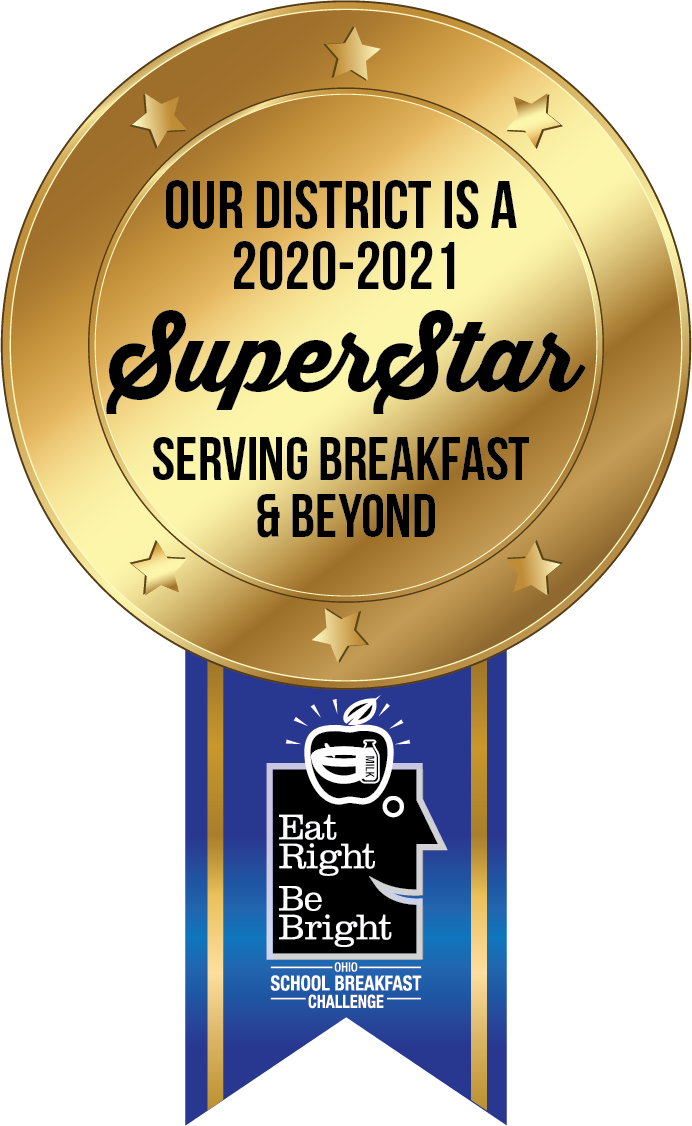 During the last school year, children and families benefitted from no-cost school meals for all students, made possible by special permission from the United States Department of Agriculture. Unfortunately, these permissions have expired. Pettisville Local Schools and the Ohio Department of Education cannot extend the permissions for no-cost meals for all students.
School meals will still be available to all students; however, they will not be free to all students. Households may apply for free or reduced-price meal benefits by 08/15/2022 applications are available at www.pettisvilleschools.org or at the school office as was done before the pandemic. Eligibility for free and reduced-price lunch is based on federal income guidelines or participation in other programs such as Supplemental Nutrition Assistance Program and Ohio Works First. For additional information concerning the National School Lunch Program, please see the U.S. Department of Agriculture school lunch question and answer webpage.
For questions or additional information please contact Sandra Blackwood at 419-446-7604 or sblackwood@pettisvilleschools.org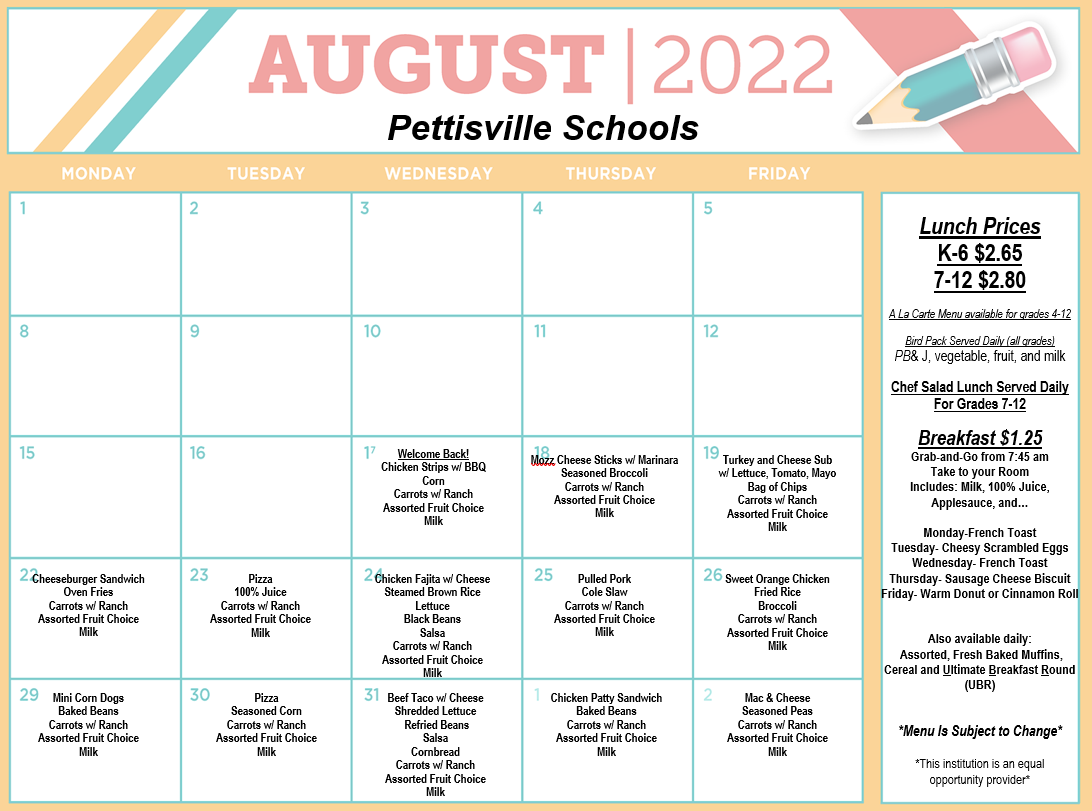 **Due to food shortages nationwide, there may be substitutions**
| | |
| --- | --- |
| Grades K-6 | $2.65 |
| Junior High - High School | $2.80 |
| Milk | $0.50 |
| Adults | $3.85 |
| Breakfast | $1.25 |
| Reduced Breakfast | $0.30 |
| Reduced Lunch | $0.40 |
| | |
| --- | --- |
| K-12 Breakfast | 8:00 - 8:20 AM |
| Lunch Grades 7 - 8 | 11:00 AM |
| Lunch Grades 9 - 12 | 11:15 AM |
| Lunch - Elementary | 11:45 AM |
Lunch accounts should be kept at a positive balance. If a student reaches a negative balance, they may not purchase extras or a la carte items. If you have a question on lunch account balances, please contact Rachel Phipps at 419-446-2705.
Grades 4-6 are allowed to purchase an extra item from the daily menu options. Students must finish 3 of 5 items on their tray before purchasing extras. The purchase of extra items or bread are for students purchasing a tray.
Students packing their lunch may purchase milk. Please notify the school if your child should not purchase extra items. (We will monitor this as much as possible, but it is still the responsibility of the student!)
Substitutes for milk are reserved for students with medical needs. Written notification from a physician is required and needs to be provided to the school.
Please notify the school of any known food allergies.
Pop should not be packed in lunches.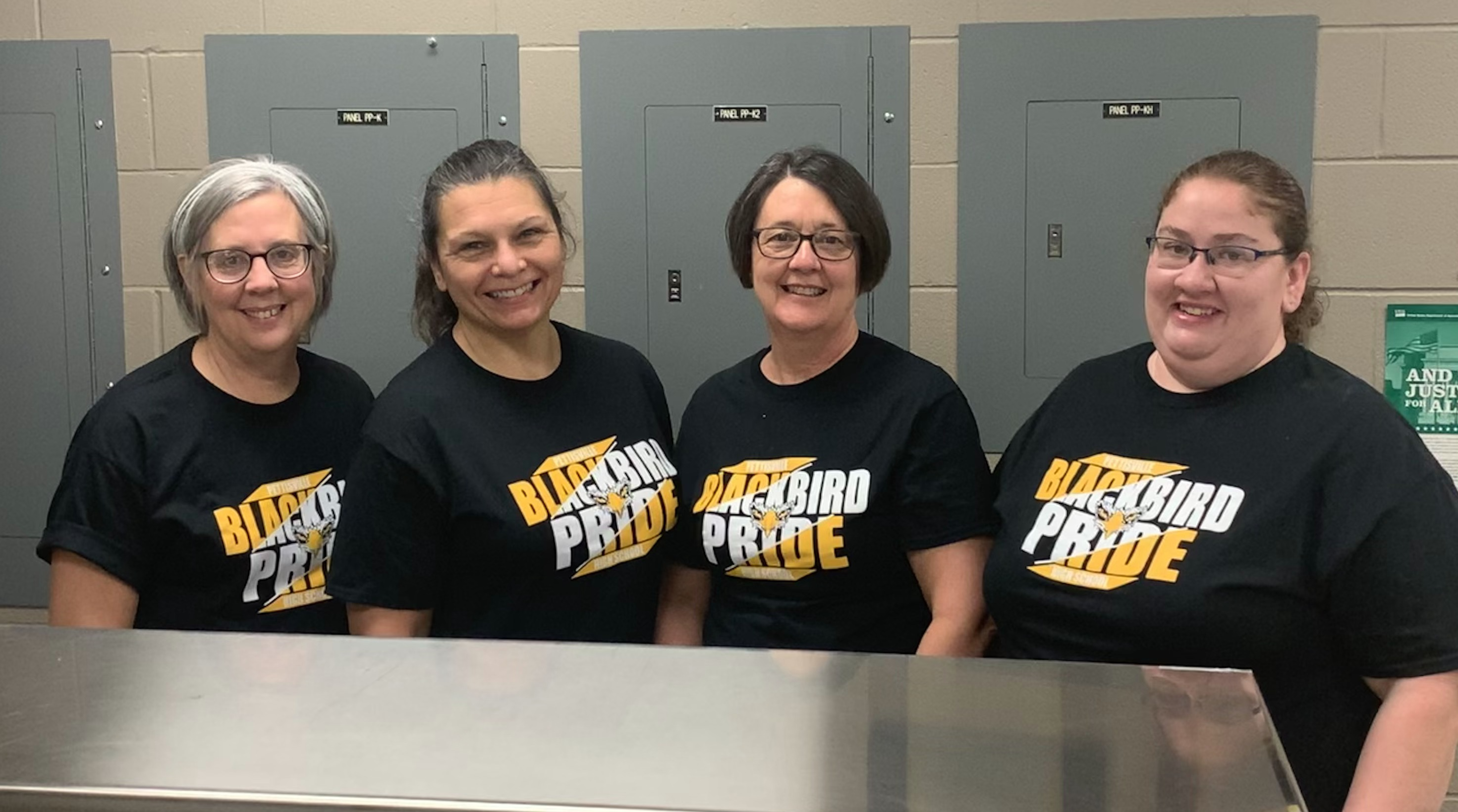 Cafe Staff L-R: Peg Bruner, Sandy Blackwood, Kathy Gruenhagen, Vicki Nofziger.