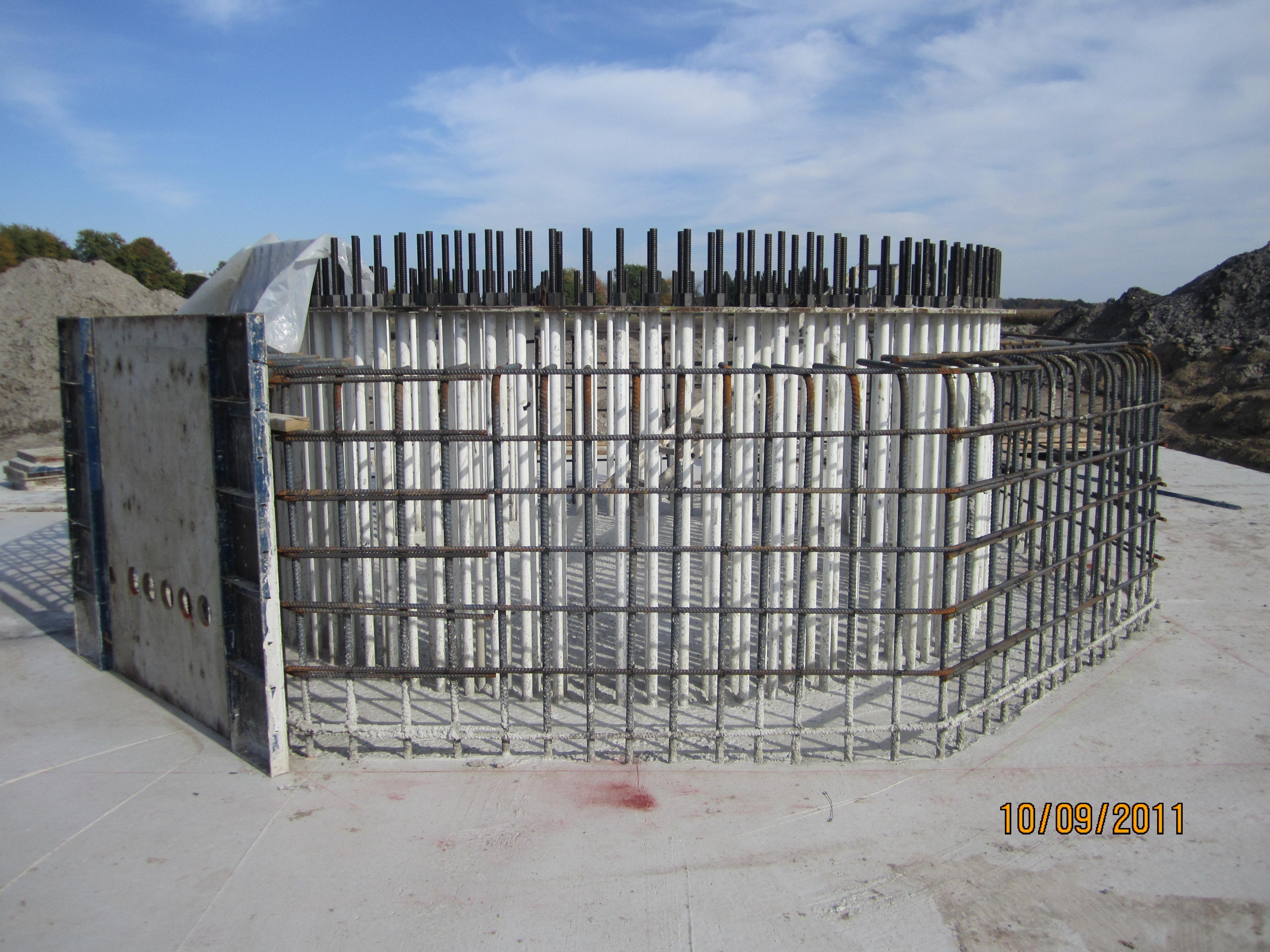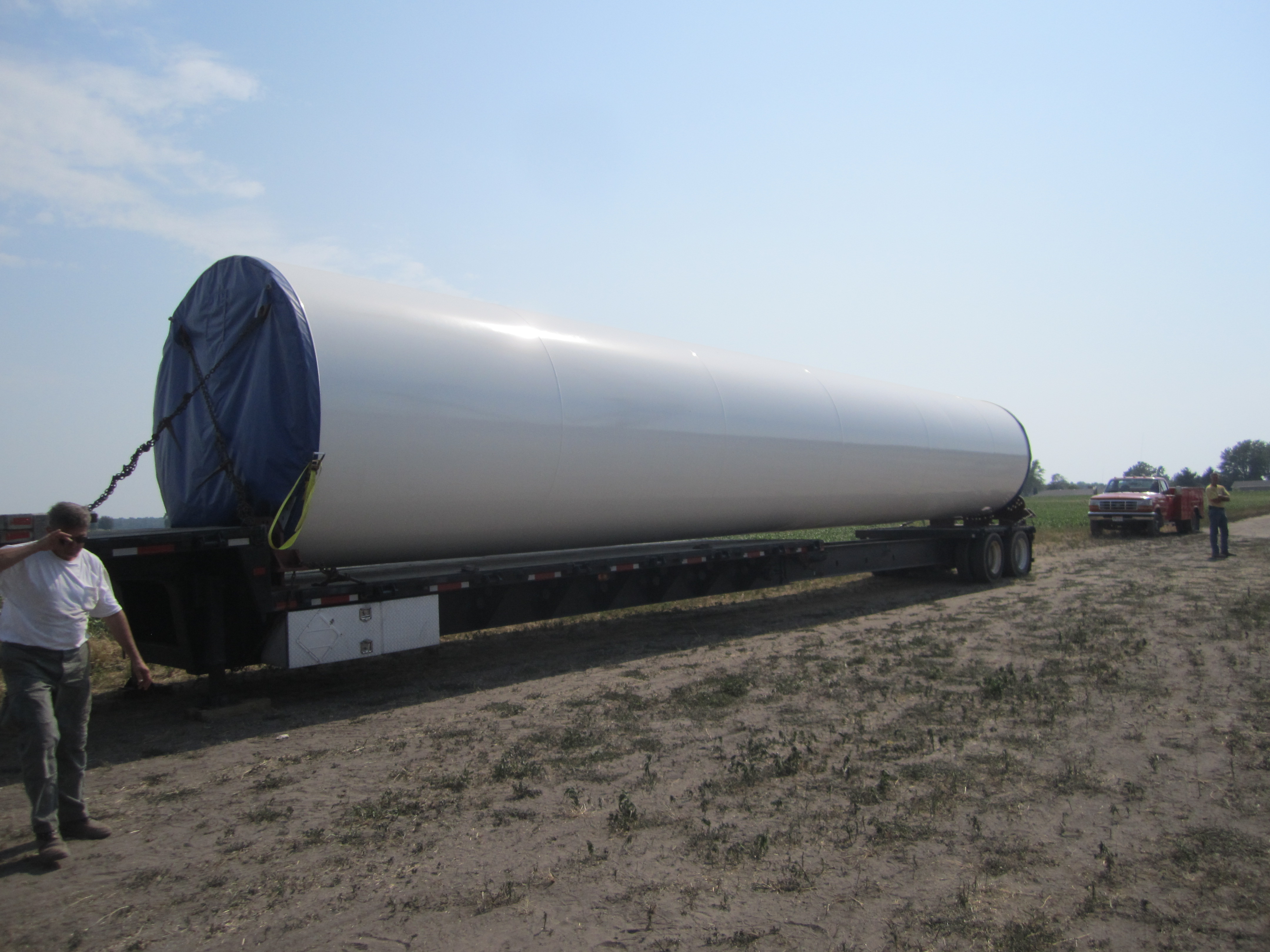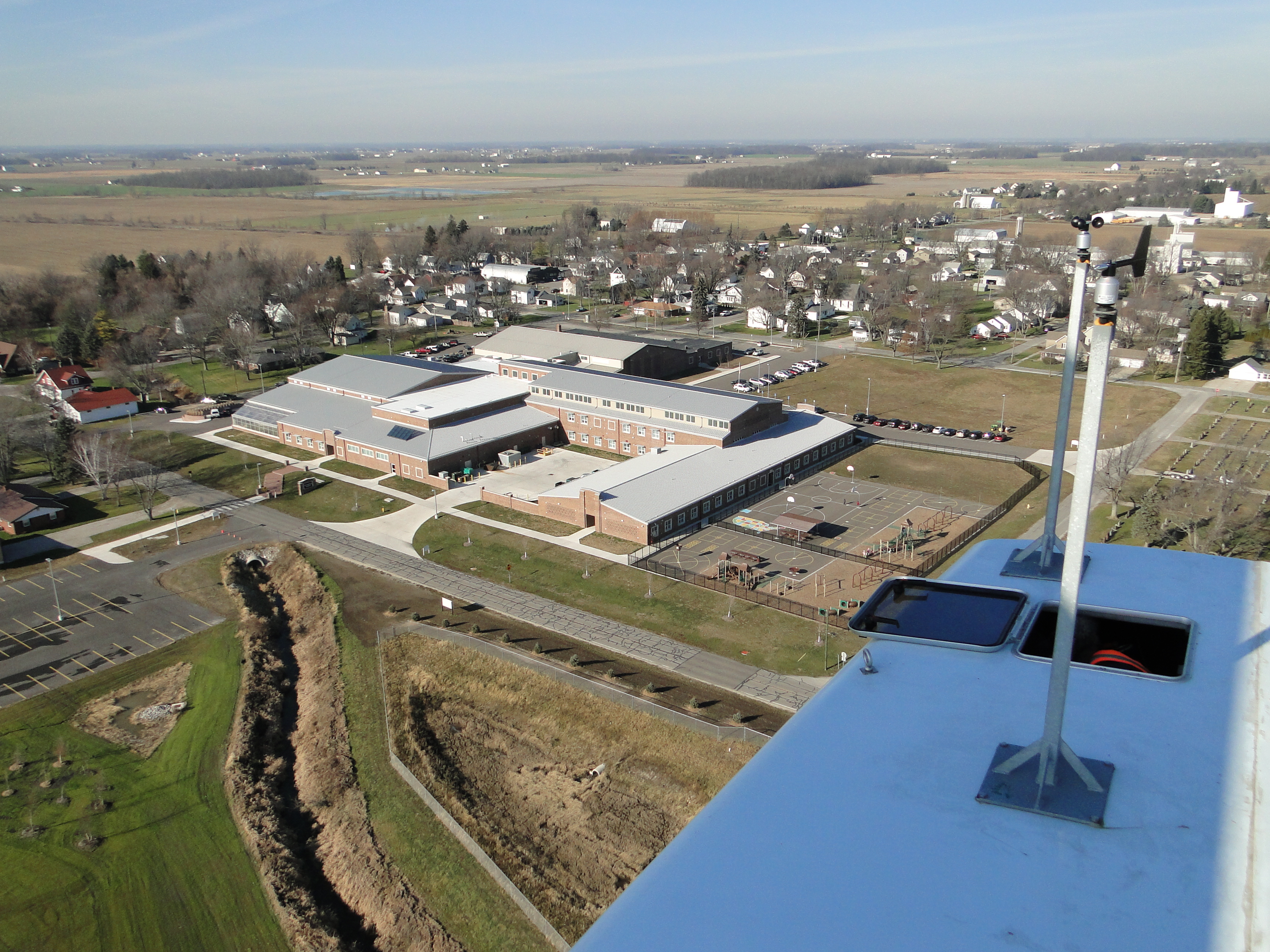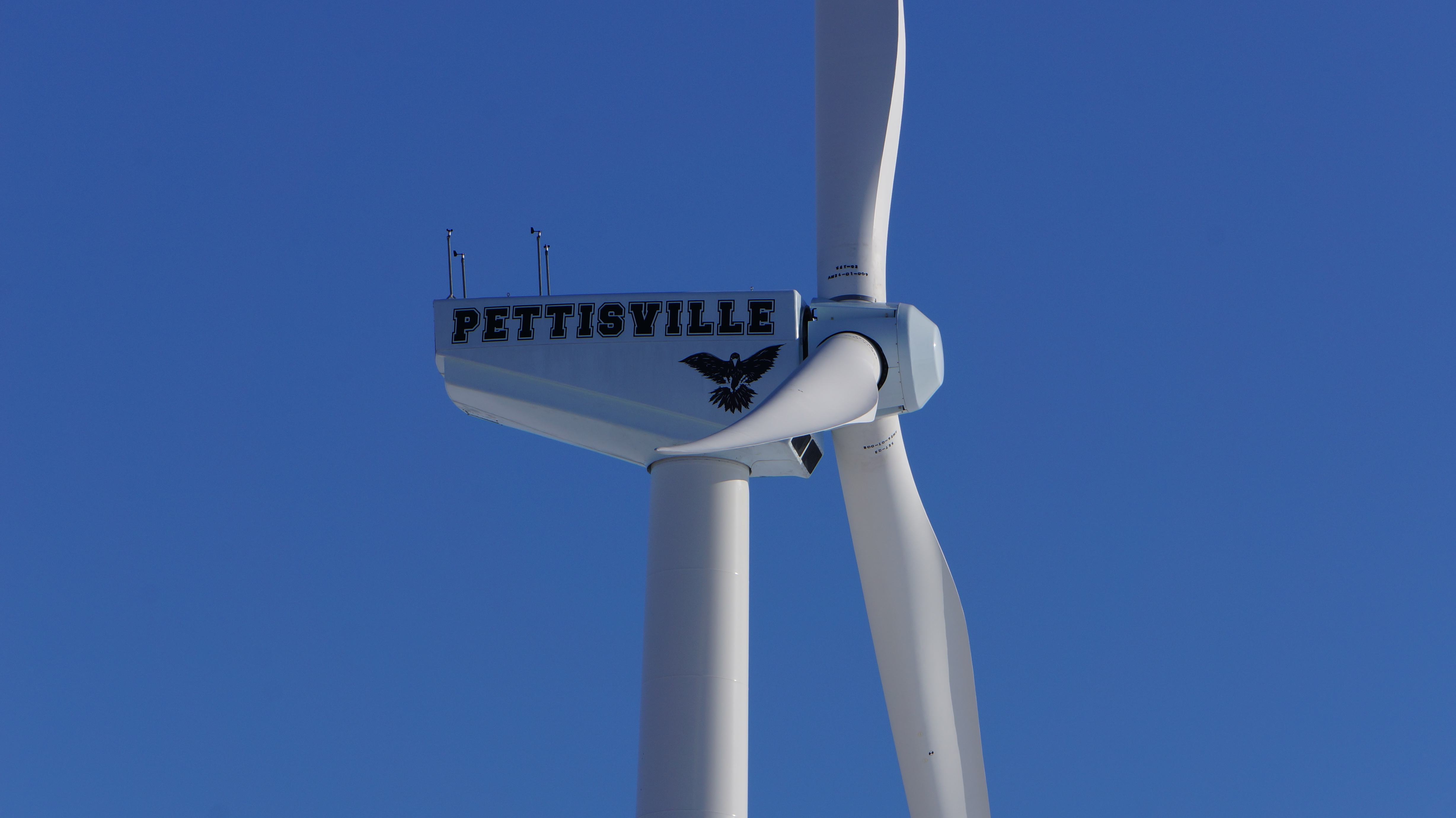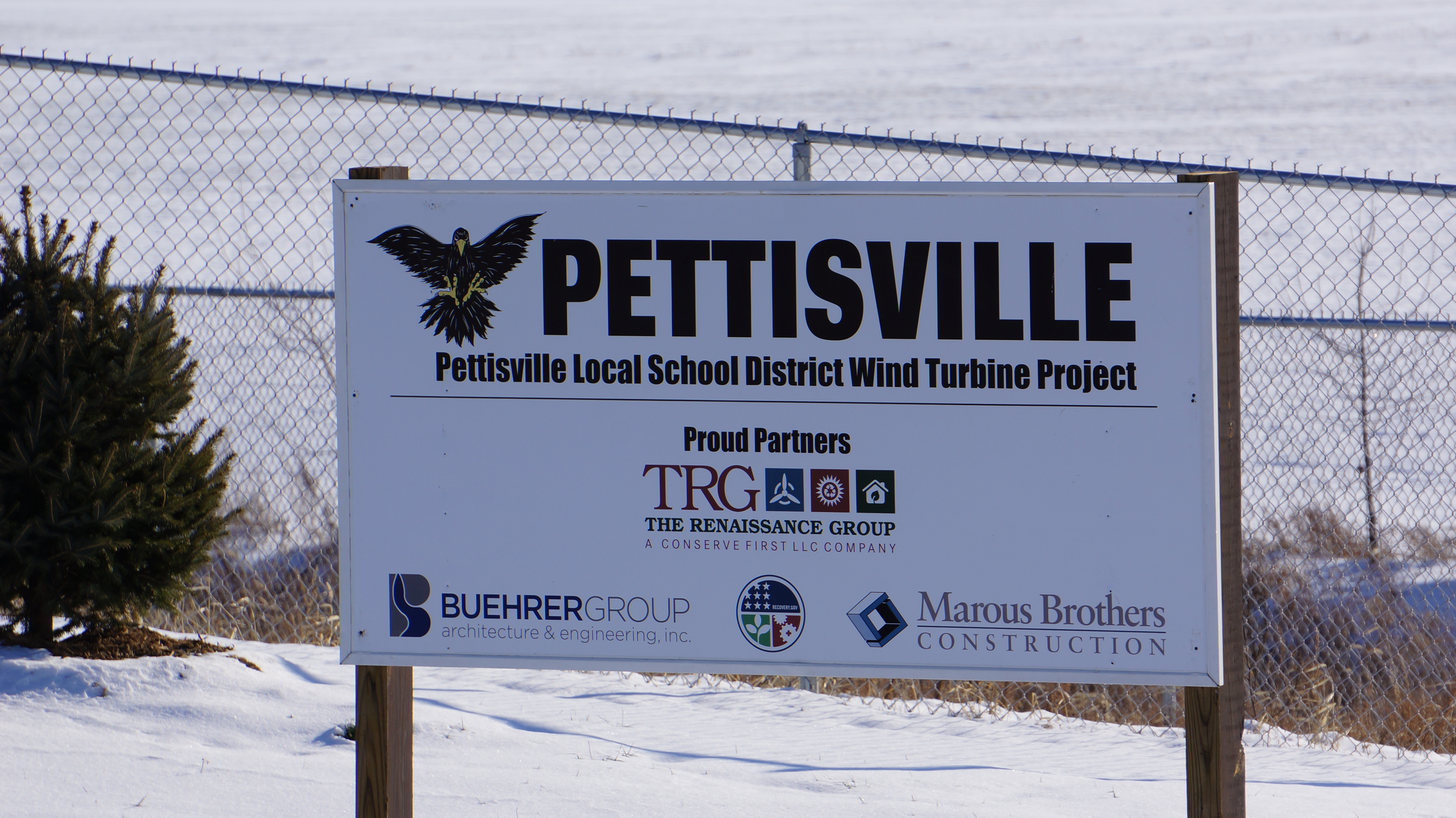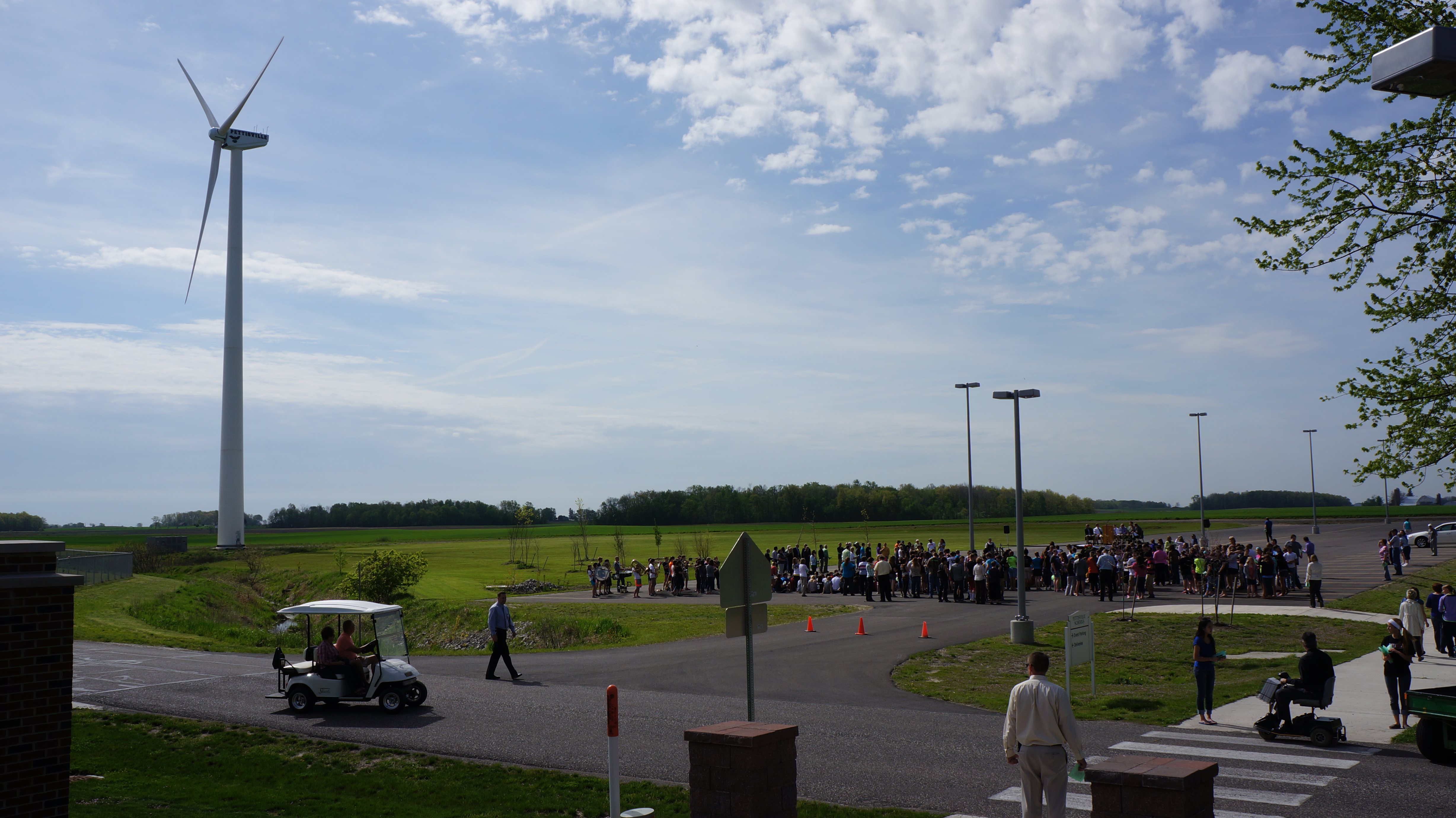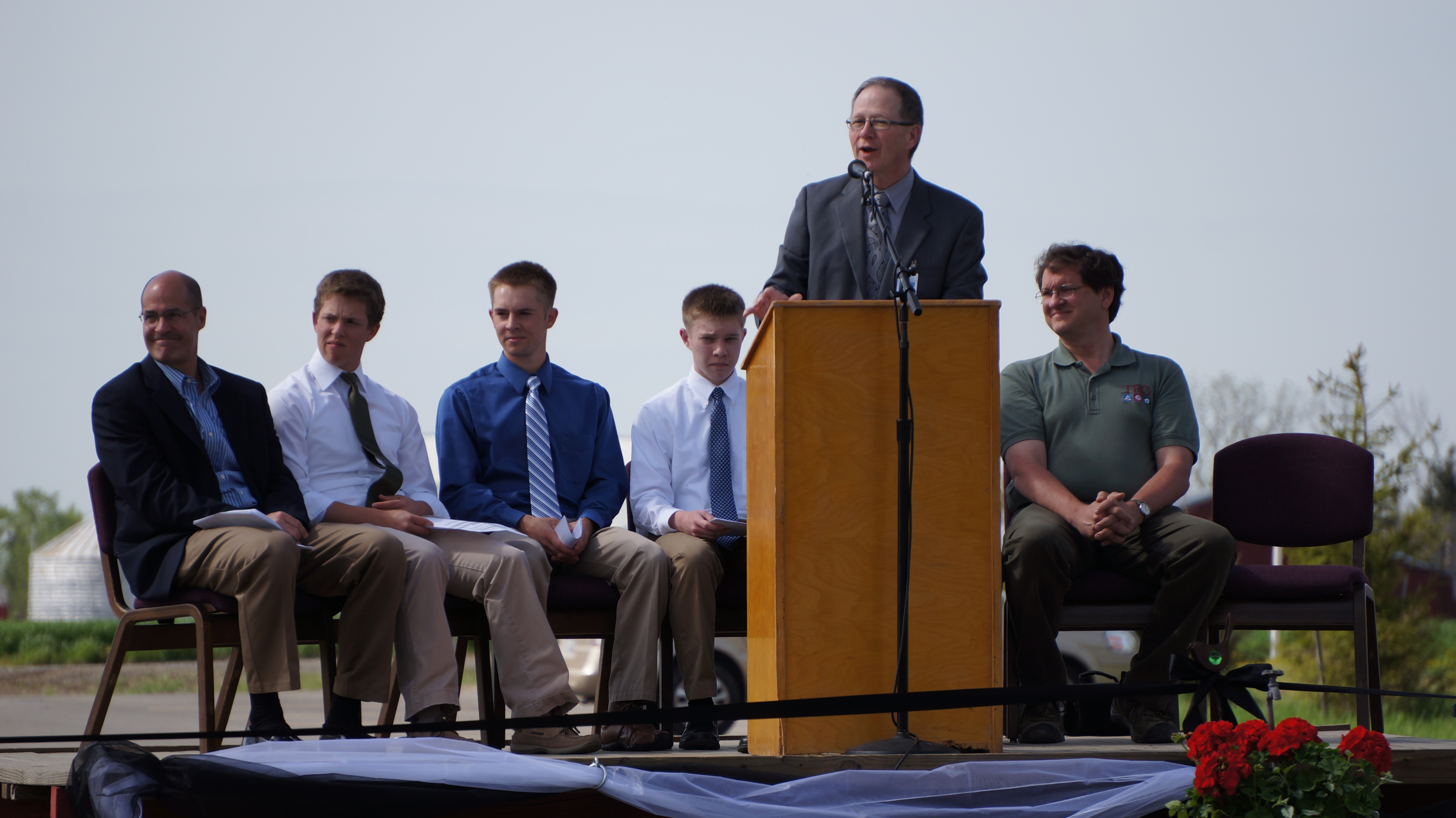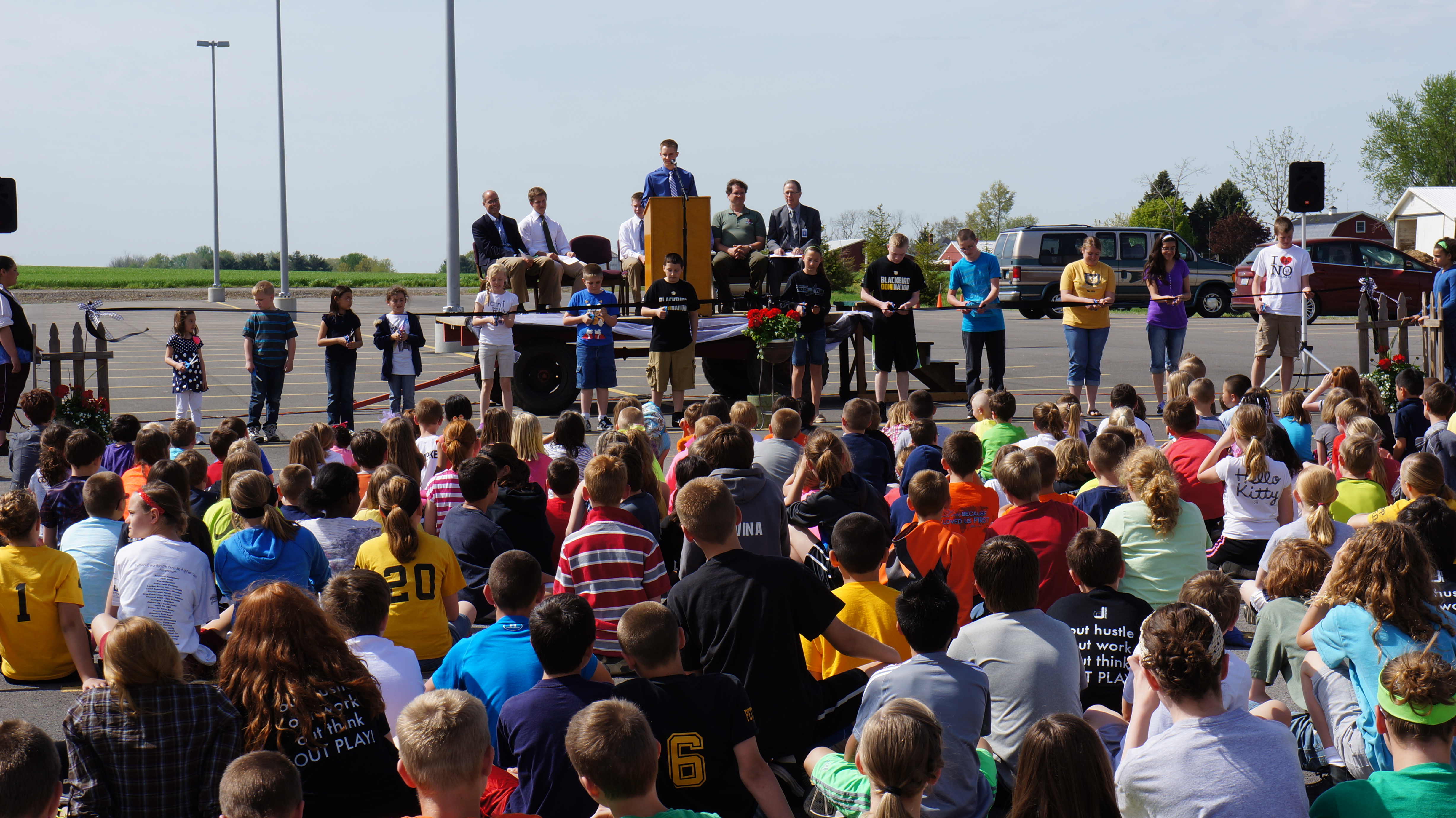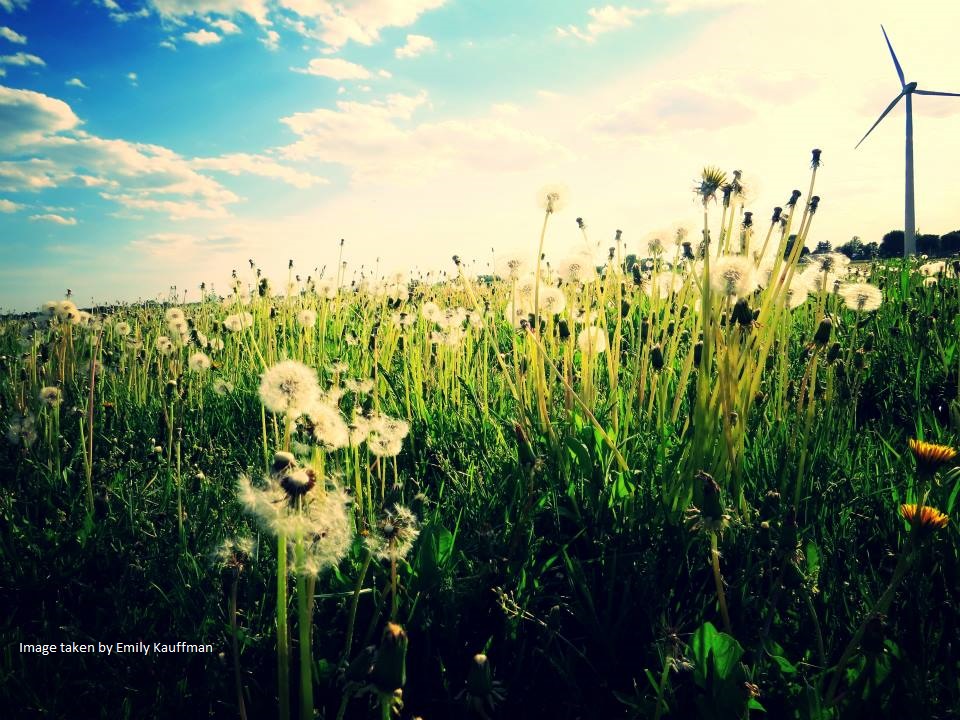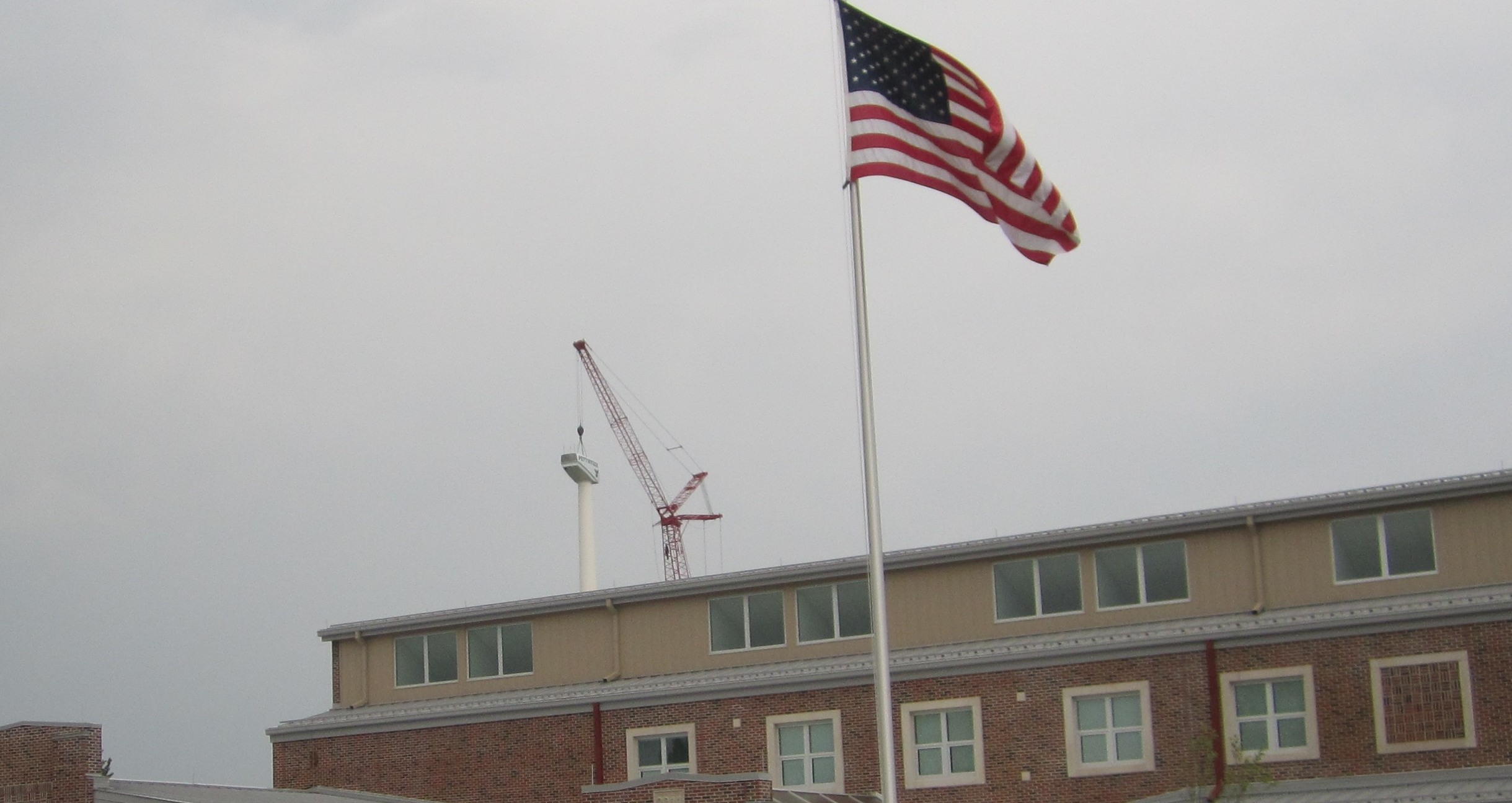 Pettisville's "wind history" started in the spring of 2005 when district personnel attended a wind seminar in Warren, Michigan and heard from a few of the school districts in the country who had installed wind turbines on their school campuses.
From the point in time that a building program became a possibility, Pettisville Schools' interested in wind power and potential building program revolved around one simple concept, one simple goal:
Create a net-zero energy school: Build an energy efficient school on a site that creates MORE energy than it consumes.
The benefits seemed endless, from the instructional tool it could become, to the energy stewardship, and the resulting economic savings.
The next few years involved seeking data and considering options. In 2007, Archbold Schools created a wind committee to look into the possibility of implementing wind power on site.
The first thought on the Pettisville side was: Wait! That was our idea. You can't do that. Those thoughts quickly subsided as the two districts decided to marshal forces and work together to attempt to create a school wind industry in Ohio and particularly in the two districts.
The two districts made many contacts and started to assemble a network of resources and support that would later prove invaluable to the effort.
The first tangible step occurred in 2008 when Archbold Schools secured a grant for a MET test tower to test wind resources over the course of a twelve month period. Pettisville later secured the same grant.
Results of the two year-long tests found wind resources that appropriate for mid-size turbines.
The first funding was secured from the state Capital Projects Budget. State Representative Bruce Goodwin and State Senator Stephen Buehrer sponsored funding in the total amount of $250,000 for the two districts. Since state capital project funding cannot flow to school districts, the schools joined together with Northwest State Community College to form the "Fulton Wind Consortium."
The two districts' projects are separate but nearly identical almost from the first day. Both districts:
Shared nearly $250,000 in Funding from the State Legislature's Capital Budget

Wrote successful ARRA Stimulus Grant Proposals for $750,000

Submitted successful grant applications for $200,000 Ohio Department of Development Grants. (Later merged with ARRA Grant)

Received Additional $200,000 in ARRA Grants

Received $75,000 for an environmental assessment that was later required
Pettisville Schools is a charter member of "Kilowatts for Education," a consortium of schools and other education entities interested in energy efficiency and renewable energy initiatives. Members receive opportunity updates, share information, share curriculum, partner coordinate projects for economies of scale and, where appropriate, coordinate fund raising initiatives. More information may be secured at www.kw4ed.org.
Tentative Wind Turbine Projected Budget
| | | | | | | |
| --- | --- | --- | --- | --- | --- | --- |
| | | Ohio Department of Development ARRA Grant | State Capital Budget Grant | Qualified School Construction Bonds (15 yr Interest Free Loan) | District Funds (from Permanent Improvement Fund) | |
| | | | | | | |
| | | | | | |
| --- | --- | --- | --- | --- | --- |
| Wind Turbine and Tower, Installation, Warranty | Electrical, Foundations, Site Work & Inspections | Design, Engineering, Management | Financing, Legal & Contingency | | ENVIRONMENTAL ASSESSMENT GRANT |
| | | | | | |
Funds can only be used for costs of Environmental Assessment; Not Transferrable to Turbine Project
| | | |
| --- | --- | --- |
| EDUCATION TURBINE PARTNERS | | |
| | | |
| | | | | | | | | |
| --- | --- | --- | --- | --- | --- | --- | --- | --- |
| | | | | | | | | |
| The Renaissance Group - Kirtland, OH | Stollsteimer Electric, Inc. - Defiance, OH | Krueger Construction - Archbold, OH | Marous Brothers Construction - Willoughby, OH | Aeronautica Windpower - Plymouth, MA | Goss International - Durham, NH | Global Blade Technology - Mt. Vernon, IN | Ventower Industries - Monroe, MI | |