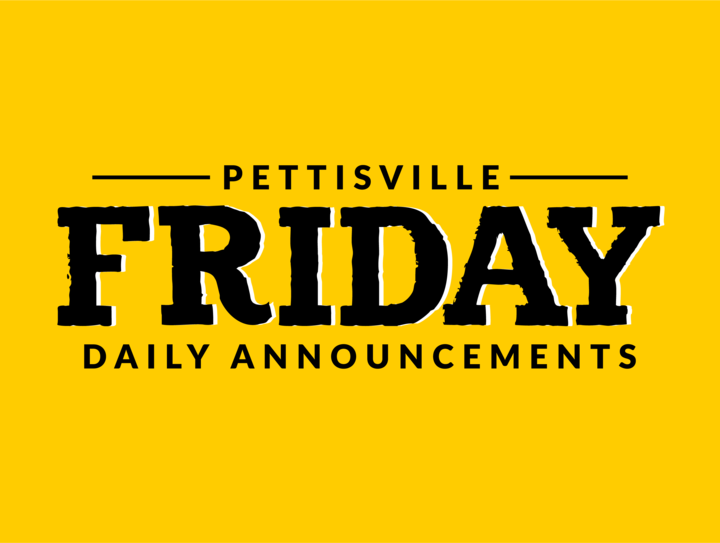 Announcements - Week of 2/18/19
Deb Graber
Tuesday, February 19, 2019
Friday, Feb. 22 -
The JV and varsity boys' basketball teams will travel to Edon tonight to take on the Bombers in BBC play.
Good luck to the girls' basketball team tomorrow in the sectional final. The girls will take on Fayette at 1:00 at Wauseon High School.
On Tuesday of next week, February 26, there will be a financial literacy event here at school called Real Money Real World. There will be a lot of professional people conducting the simulation. There are also 2 guest speakers. Please be respectful at all times. The following students will be participating….all seniors, all 8th graders, and all College and Career Readiness students. At the 9:05 bell, the 8th graders are to report directly the theater and be seated. The seniors and Career students are to report directly to the old commons and library area. The event will end at 11:05am. You can go directly to lunch at that time. If you have any questions, please see Mrs. Bacon.
Today is the deadline for the PSF Scholarship applications.
Congratulations to the JH quiz team for their win over Swanton last night 39-18.
MENU TODAY: BBQ Pork Sandwich, Cole Slaw, Baked Beans, Fruit, Milk
---
Thursday, Feb. 21 -
Everyone is invited to come and support the sophomore class this evening. The Sophomore Supper will be from 5:00-7:00 during the Mini-Bird Jamboree. Sophomores: Please be on time for when you are scheduled to work and please bring a hat to wear while serving food.
Attention high school and junior high track and field team members: There will be a meeting on Monday, February 25 at 7:00pm in the study hall for high school and junior high track team members and parents. If you are unable to attend the meeting, please contact Coach Gabe Jaramillo.
Afternoon Activity Period will be for NHS – meet in the study hall and FCCLA – meet in Mrs. Bacon's room.
Sra. Richer's students should report to study hall today. Assignments will be posted to Classroom. Sra. Richer will be available for questions via email or 5th period in her room.
MENU TODAY: Chicken Fajita Sub, Romaine Salad, Fruit, Milk
---
Wednesday, Feb. 20 - You are invited to the Sophomore Supper on Thursday evening from 5-7pm. This is also when the Mini Bird Jamboree is happening. Come and enjoy a cup of chili, hot chicken sandwich, mini corn dogs, and other things, as well as a piece of Doughbox pie! See you Thursday evening!
Sophomores: Please check the list on Mrs. Frazer's door to see when you signed up to work for the Sophomore Supper. Make sure your parents know when they are scheduled also.
Yesterday the high school quiz team participated in the Fulton/Henry County tournament with 7 other local schools. After defeating Evergreen, Archbold, and Wauseon, the team moved on to the finals without a loss. They faced Evergreen in the finals, and while they lost the first match, as it was a double elimination tournament, they played them one more time and won with a score of 46-41. Congratulations to the Nerd Herd for being named champs for the second year in a row!
The junior high quiz team faced Evergreen after school yesterday and was also victorious with a final score of 45-26. Congratulations to them and good luck as they face Swanton on Thursday.
There will be no high school FCA today.
Study hall changes today: Period 1 – Band room; Period 3 – Mr. Switzer's room; Period 4 – Mrs. Dadisman's room.
This week is FFA week. The theme on Thursday is "Hat Day," but in order to wear a hat, you must pay $2. The money will be collected during first period Thursday morning. All the money collected will help raise money for the Meals of Hope event that the FFA is hosting. Meals of Hope is a food packing organization that provides food for those who need assistance getting meals each day. Our goal is to pack 52,000 bags, but in order to do so, we need to raise $13,000. We encourage your participation in this event. Thank you!
Detention today will be with Miss Stahl in room #150.
---
Tuesday, Feb. 19 -
Spanish Club enchilada casserole sale starts today and runs through March 5th. Students should pick up sales slips in Mrs. Richer's room today.
MENU TODAY: Cheese Pizza, Key West Vegetables, Fruit, Milk