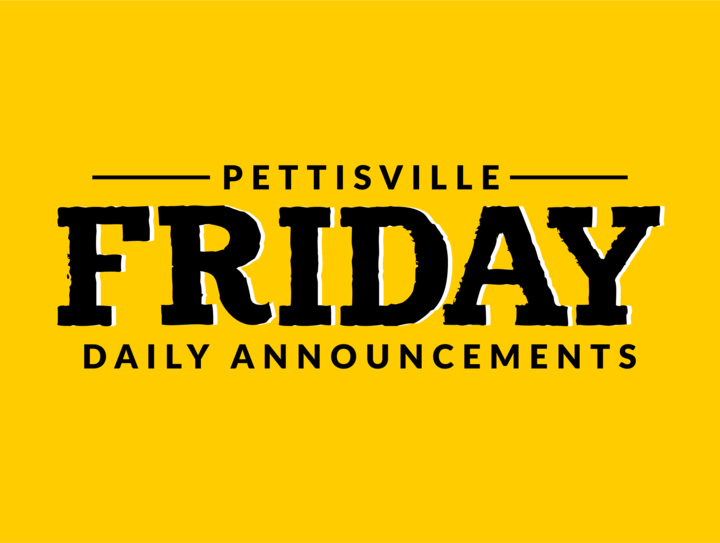 Announcements - Week of 2/15/21
Deb Graber
Thursday, February 18, 2021
Friday, Feb. 19 - Activity Period today will be for FCCLA and Quiz Members. FCCLA will meet in the theatre. They will be attempting FCCLA jeopardy!! Quiz will meet in study hall.
Attention quiz team members: JH quizzers should meet in the atrium at the start of activity period for their team picture. HS quizzers should meet in the study hall.
Friday: To conclude random acts of kindness over the last 2 days, we will remind you of the golden rule: Treat others the way you want to be treated. You can still bring in hygiene items for the Blackbird pantry on Monday.
Juniors: Please bring your chromebooks on Tuesday to use after the ACT.
The Pettisville Ever-Ready 4-H club would like to invite you to attend their first 4-H meeting of the year to help get you enrolled in this great program! By joining 4-H you'll meet new people, learn new life skills, build self-confidence, learn responsibility, set and achieve goals, and of course have fun! 4-H is open to all youth who are 8 years old AND in the 3rd grade by Jan. 1, 2021 and to those who are no older than 18 as of Jan. 1, 2021. We'd love to have you in our club! Our first meeting is this Monday, Feb. 22 at 7:30pm. Due to COVID restrictions, we will be hosting a virtual meeting instead of meeting in person. If you have any questions, contact Peggy Kruse at 419-337-1114.
MENU TODAY: Fish Sandwich or Cheeseburger, Tater Tots, Juice, Apple Slices, Milk
---
Thursday, Feb. 18, 2021 -
Journalism application deadlines will be extended by one week. Those interested in applying for next year's journalism class should submit their application by next Friday. See Ms. Dorosz or Mrs. Dadisman if you have questions.
Attention HS and JH quiz team members: This is a reminder that team pictures will be taken tomorrow during Activity Period. Please wear your shirt and meet in the atrium at the start of Activity Period.
Thursday: One way you can be kind today is by dropping off a thank you note in the box outside of Mrs. Wyman's door. Write something nice to a teacher, another student, or any other staff member or a resident at Fairlawn. "Kindness costs nothing, but it means everything." This will be available today and tomorrow. Also, please consider bringing in some hygiene items for the Blackbird Pantry. They are in need of soaps, toothbrushes, and toothpaste.
MENU TODAY: Lasagna, Bosco Cheese Stick, Mixed Green Salad & Ranch Dressing, Mandarin Oranges, Milk
---
Monday-Wednesday: No School