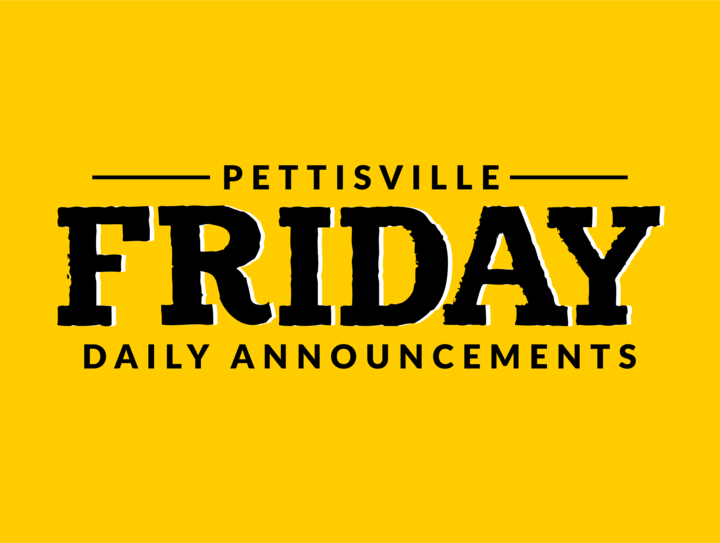 Announcements - Week of 2/12/2018
Pettisville Schools
Monday, February 12, 2018
Friday, Feb. 16
The theme for tomorrow night's game against Wauseon is "costumes."
Results from the Science Fair from last Saturday are:
Team Projects: Clara Damman and Karsyn Hostetler (8th graders) – Superior
Baden Skates and Dylan Rash (8th graders) – Excellent
Individual Projects: Matthew Rupp (10th grade/FFA) – Superior
Kayla Wyse (11th grade/FFA) – Superior
Jordan Skates (12th grade/FFA) – Superior
Jessie McWatters (10th grade/FFA) – Excellent
Peyton Miller (11th grade) – Excellent
Pete Rupp (8th grade) – Superior
Angie Rosillo (8th grade) – Excellent
Dalton Myers (10th grade) – Good
Applications for the STEM field trip to OSU's Stone Research Lab on June 7 & 8th will be available from Mrs. Meller or Mrs. Miller staring next week. Applications will be due Wednesday, March 14th. Space is limited and application responses will be used to select students' participation.
JV and Varsity boys' basketball practice today will be from 3:15-5:00pm.
The Pettisville/Wauseon boys game for Saturday is sold out! To gain admission Saturday night, you must have purchased a pre-sale ticket, be a Pettisville season pass holder, be a Pettisville senior citizen pass holder, or be a Pettisville staff pass holder. No tickets will be sold at the door. League passes: The ONLY league passes accepted Saturday night will be Wauseon NWOAL passes and Pettisville BBC passes.
Spirit Squad members will meet today in Ms. Dorosz's room at lunch.
Before basketball tournaments begin next week, prepare yourselves for a spirit week! On Tuesday of next week, wear your safety or neon. Whatever it is, make sure it's bright! Classes will receive points based on the percentage of students dressed up, so upperclassmen, make sure those junior highers don't outdo you!
Activity Period today will be for Spanish Club. They will meet in Mrs. Richer's room #202. All other students should report to homeroom.
MENU TODAY: Cheese Bagel Bites, Carrots, Corn, Fruit, Milk
---
Tuesday, Feb. 13

Attention senior spirit club members: Please meet in Ms. Dorosz's room today at lunch.
The high school quiz team participated in two matches last night. They defeated Swanton 38-19 and then lost in a heartbreaker to Patrick Henry 38-39. They will be back in action next Monday.
STEM meets today after school in Mrs. Meller's science classroom.
Attention Volleyball Players in Grades 8-11: There will be a meeting in the library at lunch today. Please bring your lunch.

There will be softball conditioning this week on Wednesday and Friday, after school until 4:30, in the weight room.
Softball practices will begin next week, starting on Monday. Practice times will be determined. Please check dynacal for updates.

Musical rehearsal tonight is from 6:30 to 9:00 P.M. We will do Act I with piano.

MENU TODAY: Chicken Nuggets, Green Beans, Dinner Roll, Fruit, Milk
---
Monday, Feb. 12
Detention today will be in Mrs. Bacon's Room 211.
STEM meets tomorrow after school in Mrs. Meller's science classroom.

Congratulations to the junior high quiz team who defeated Evergreen in their season opener last Thursday 44-28. Good luck to them as they take on Archbold tomorrow.

Two FFA members competed in the District Public Speaking Contest last Thursday. Gretchen Lee placed 2nd in Advanced Prepared Speaking and Jordan Skates placed 4th in Extemporaneous Speaking. Gretchen advances to state competition next month.
MENU TODAY: Beef Tacos, Refried Beans, Tomatoes, Lettuce, W/G Goldfish, Fruit, Milk