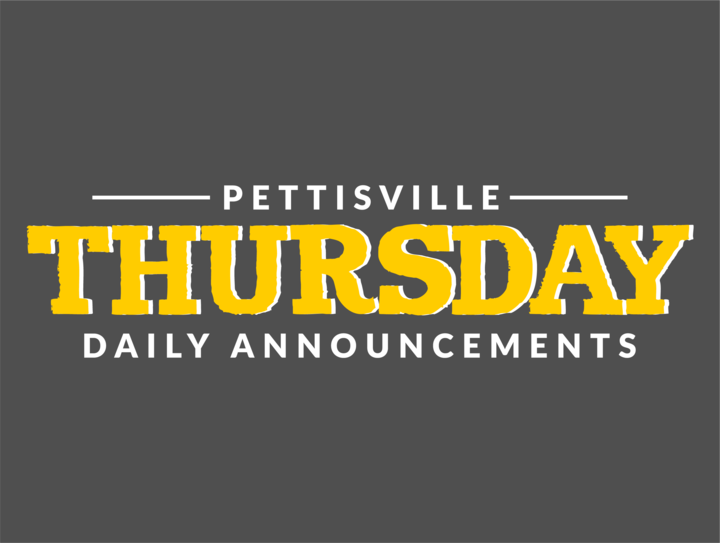 Announcements - Week of 11/2/2020
Deb Graber
Monday, November 02, 2020
Thursday, Nov. 5 -
Today's Activity Period will be for FFA – meet in the ag room and Student Council – meet in the theatre.
MENU TODAY: Hamburger Gravy, Mashed Potatoes, Dinner Roll, Carrots w/Ranch, Apple Slices w/PB, Peaches, Milk
---
Wednesday, Nov. 4 -
High school students are invited to join the Student Council outside on the north lawn today. When you are finished with your lunch, please exit the east atrium doors. Remember to maintain social distancing, keep your masks on, and stay on the west half of the lawn to allow 1st graders to have their recess space.
MENU TODAY: Cheese Nachos, Refried Beans, Salsa, Cornbread, Carrots w/Ranch, Juice, Pears, Milk
---
Tuesday, Nov. 3 -
Congratulations to the JV Quiz Team for their 345-135 victory over the Toledo Islamic Academy yesterday.
With the great weather this week, the Student Council is inviting you to enjoy some fresh air with music playing. For one day only, when you are done eating lunch, join us on the north lawn. Someone will be posted by the east atrium door so students remember to go outside, rather than the gym. This will not take any class time, except for a few student council members who need to help with setup and tear down. We are not permitting sports equipment at this time. All students are required to maintain social distancing and appropriate masking. Stay on the west half of the lawn and do not interact with elementary students at recess. Please abide by these rules so you can enjoy the sunshine. Junior High will have outdoor time today, November 3rd; High School will be outdoors tomorrow, November 4th.
MENU TODAY: 7-12 - Big Daddy's Pizza, Carrots w/Ranch, Spinach Salad, Cupped Fruit, Milk; K-6 - Tony's Pizza, Carrots w/Ranch, Cupped Fruit, Milk
---
Monday, Nov. 2 -
You will notice at lunch today that all of the benches in the cafeteria will be pulled out at the tables. This is being done for the elementary only. The seating arrangement for JH and HS is not changing, so please do not sit on the other side of the tables.
For Diá de los Muertos today, Spanish Club is wearing their one-of-a-kind masks they made. This day is celebrated in Mexico to remember loved ones who have passed on, and to help understand the circle of life. It is a time of picnics, music, and family gatherings. Spanish Club members, please meet at 11:15 in the atrium for a group photo, even if you didn't bring the mask you made. Graciás!
Freshmen & JV boys' basketball practice will be from 5:00-6:30 today. Varsity boys' basketball practice will be from 5:00-7:00.
MENU TODAY: Hot Ham & Cheese, Tater Tots, Carrots w/Ranch, Cupped Fruit, Milk