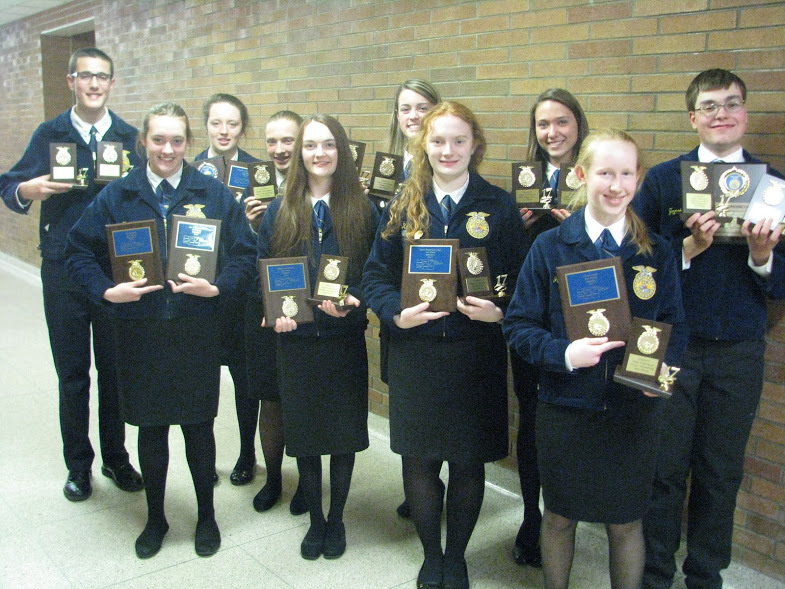 FFA - State Convention and the District Banquet
Drake McKeever
Tuesday, June 06, 2017
Once again, Pettisville FFA attended the Ohio State FFA Convention at Columbus on the state fairgrounds this year, for the 89th Ohio FFA Convention May 4th-5th. Twenty-four Pettisville members attended convention along with twenty-four parents and guests. During convention the members went to sessions where state officers and invited speakers gave speeches to help chapters and members get motivated to do more in communities. Chapter members toured the Anthony –Thomas Chocolate Factory and attended leadership workshops.
In other sessions state officers awarded chapters for doing well in the community, or for a community member. Our chapter was recognized on stage for supporting Children's Hospital and CROP-Church World Services. Once the sessions were done, members and parents had the chance to go look at the expo and career displays. In the expo center there were different colleges and businesses there to teach and to inform the members of the new programs they had. Then at the fifth session they announced the State FFA Degree recipients, including Jordan Skates, Gretchen Lee, James Eicher, and Caitlyn Beck.
In the Agriscience Fair competition, Gretchen Lee placed first in the Animal Science category, Division 5; Jordan Skates placed first in the Environmental Science category, Division 5; Kayla Wyse placed first in the Plant Science category, Division 3; Matthew Rupp placed second in the Power and Mechanical Science category, Division 3; Jessie McWatters placed 2nd in the Social Science category, Division 3; and Jacob Dennis placed third in the Plant Science category, Division 5. First place winners submit their papers to National FFA to determine if they will be selected for presentation at National FFA Convention in the fall. Jacob Dennis was named Ohio Star in Agriscience and first place in Agriscience Research-Plant Systems proficiency and he also finished first in the state for the Career Development Event (CDE) competition of Grain Merchandizing . Gretchen Lee placed second in Agriscience Research – Integrated Systems proficiency. Also during convention, Chrysta Beck was named the Ohio's Star in Agriscience for American Degree recipients. The Business Management CDE team, made up of Jacob Dennis, Lynnsey Crouch, John Rufenacht and Ben Gray placed seventh in the state and Jacob placed sixth individually.
Receiving recognition for their Gold Rated officer books were Kendal Pursel, Treasurer and Jordan Skates, Secretary , who both received perfect scores. Convention was a successful and fun trip for the Pettisville FFA Members.
The week after convention, ten members attended the District 1 FFA Officer's Training and awards banquet. They picked up several plaques won over the year at the district level and split up to attend three different workshops.
Jordan Skates, left and Kendal Pursel display their first place plaques earned for their officer books. Jordan was the secretary and Kendal the treasurer last year.
---
Gretchen Lee, Mr. Michael Lane and Jacob Dennis pose with the plaques won as finalist in proficiency award areas. Mr. Lane is the high school principal at Pettisville. Jacob's application advances to National FFA competition. Lee is the daughter of Chris and Char Lee. Dennis is the son of John and Susan Dennis.
---