FFA Update
Jacob Dennis
Friday, March 03, 2017
Pettisville FFA Update
February 28, 2017
Pettisville FFA Chapter
Jacob Dennis, Reporter
The Pettisville FFA Chapter has been very active so far this year. In January, six members worked hard to complete state degree, proficiency and star applications. These members spent countless hours completing their applications. Completing an application is a good way for members learn about themselves. They will find out their results in early March after state evaluation.
Five members competed in the Fulton County public speaking contest on January 25th. Jacob Dennis placed 1st in extemporaneous, Gretchen Lee placed 1st in advanced prepared, Kayla Wyse placed 3rd in beginning prepared, and Matthew Rupp placed 4th while Kaitlyn Wiemken placed 2nd in the FFA Creed contest. Four of the members moved on to the District FFA 1 contest. Jacob Dennis placed 2nd, Gretchen Lee placed 4th, Kayla Wyse placed 6th and Kaitlyn Wiemkin placed 8th. Jacob Dennis will compete in the state contest on March 4th.
Jacob Dennis, Kendal Pursel, and Jordan Skates all completed officer books. Jacob received a silver rating on his scrapbook. Kendal Pursel received a gold rating on her treasure's Book, and Jordan Skates also received a gold rating on her secretary's book. They will be recognized for their gold ratings on stage at State Convention in May. Both placed 1st in District 1.
The chapter held the Greenhand and Chapter Degree ceremony at the February meeting on February 18th. Sixteen members received Greenhand degrees and sixteen members received Chapter degrees. The Greenhand degree is given to first year FFA members. The Chapter Degree is the highest degree that a chapter can bestow on its members.
The week of February 19th-25th was National FFA week. On Wednesday, the chapter held a pancake breakfast for Pettisville staff, alumni members, and parents to show their appreciation for them. On Thursday, the chapter held Food for America Day, with a theme of 'Healthy Foods." FFA members researched particular foods and made posters about that food. They then shared this information with 4th-8th grade students. The purpose of Food for America Day was to inform others about the nutritional benefits of different foods, and how the agriculture industry works to produce food to feed America.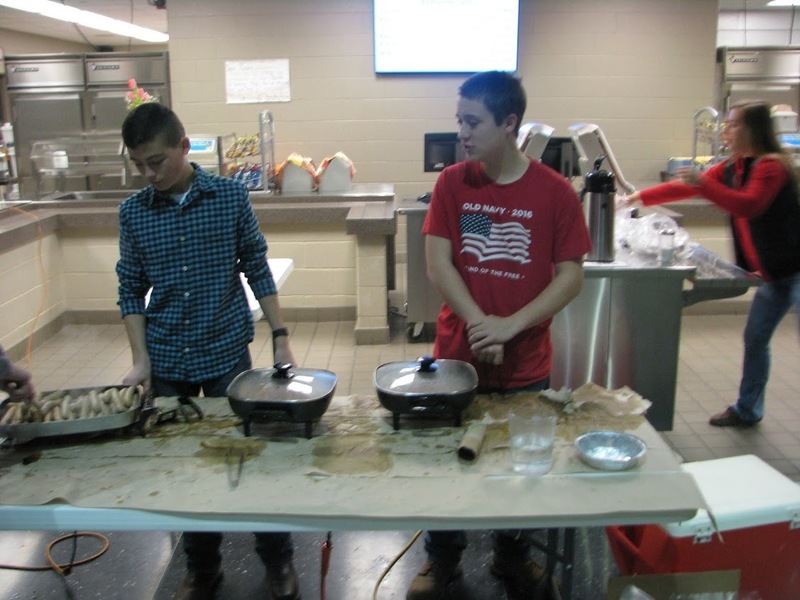 Zach Morrison and Drake McKeever cook sausages for the pancake and sausage breakfast.
Gretchen Lee and Dillion King show a lobster to elementary students at Food for America Day.
Matthew Rupp and Lexi Sauder teach elementary students about the health benefits of eating cucumbers and pickles.